Chai Jiffy Rolls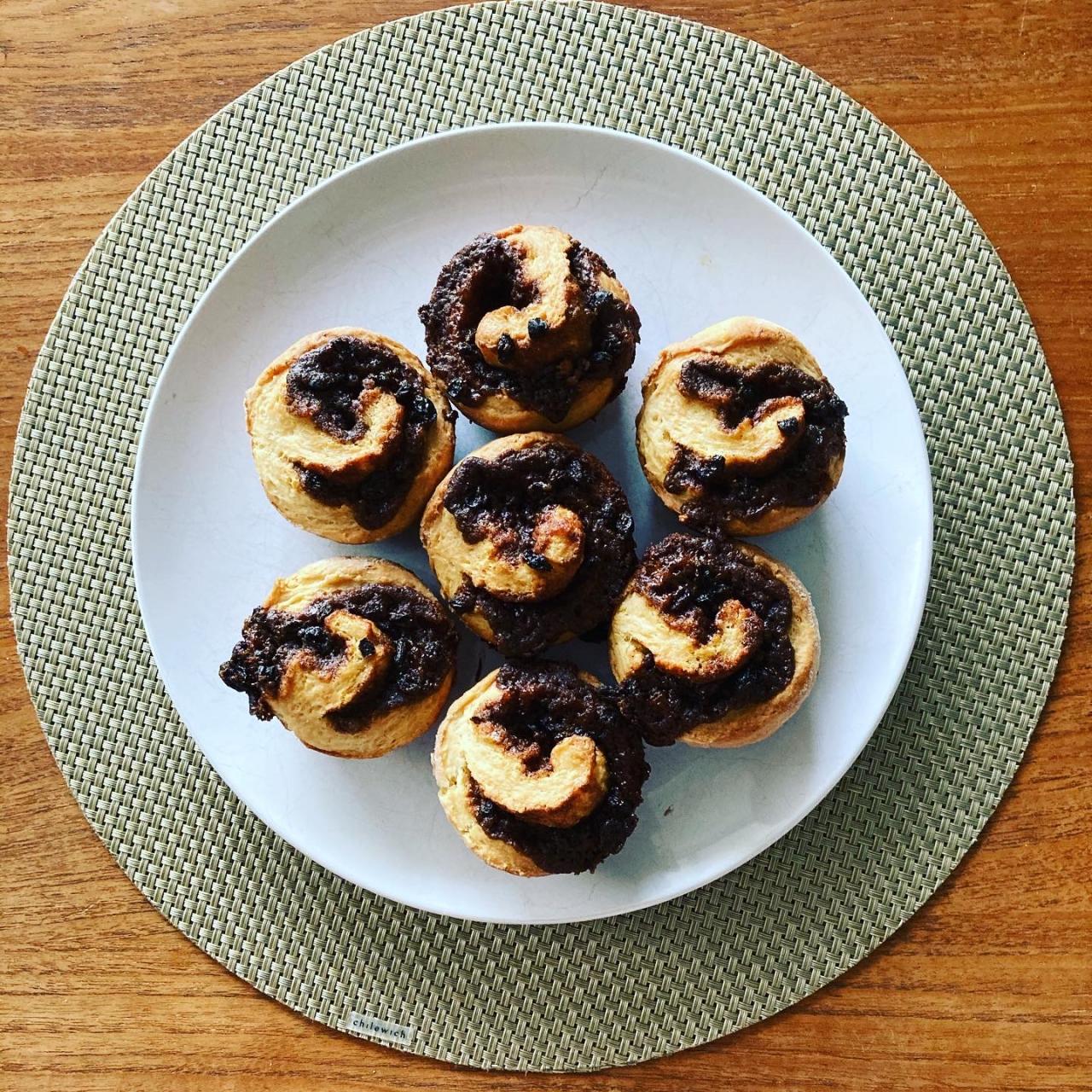 Chai Jiffy Rolls are a twist on the recipe for Jiffy Cinnamon Rolls in Jean Paré, CM's Muffins & More cookbook. I got a copy of this book from a dear friend back in 1987 with special instruction to make sure I baked the Cinnamon Rolls at least once (and to invite her over when I did). I've made the originals many times but I was craving something with cardamon in it and sooooo…I decided to replace the cinnamon with about triple the amount of the Minimalist Baker's 5-Minute Caffeine-Free Chai Mix.
Ingredients
Dough
2 C flour
2 Tbsp organic cane sugar
4 tsp baking powder
1 tsp salt
1/4 C butter
1 C cold milk
Spice Mixture
1/3 cup butter softened
1 C brown sugar
3 Tbsp Chai Mix
1/3 C currants
Instructions
Preheat oven to 400 F.
Mix the dry ingredients for the dough together in a large mixing bowl.
Cut the butter into dry ingredients (or just use your fingers) until you have a flour and butter crumble.
Make a well in the centre and pour in the milk.
Stir until a soft dough forms.
Turn dough out onto lightly floured baker's parchment and knead it a few times until it comes together.
Lightly flour the top of the dough, place another piece of baker's parchment on top and roll out in  a rectangle that is about 8″ x 12″.
Cream the butter and sugar together.
Add the Chai mix and cream together.
Grease a 12 cup muffin tin and the add about 1/2 tsp of the sugar spice mixture to each cup.
Spread the remaining sugar spice mixture over the dough rectangle leaving about 1/2″ of dough uncovered on one long edge.
Sprinkle the dough with currants and roll up like you would a jelly roll.
Mark and cut 12 equal slices.
Place the slices cut side down it the muffin cups.
Bake for 20-25 minutes (depends on the heat of your oven).
Remove and turn the rolls out onto a tray to cool.
Glaze if you want, but they really don't need it.
---
---