Kardemummubullar (Cardamon Rolls)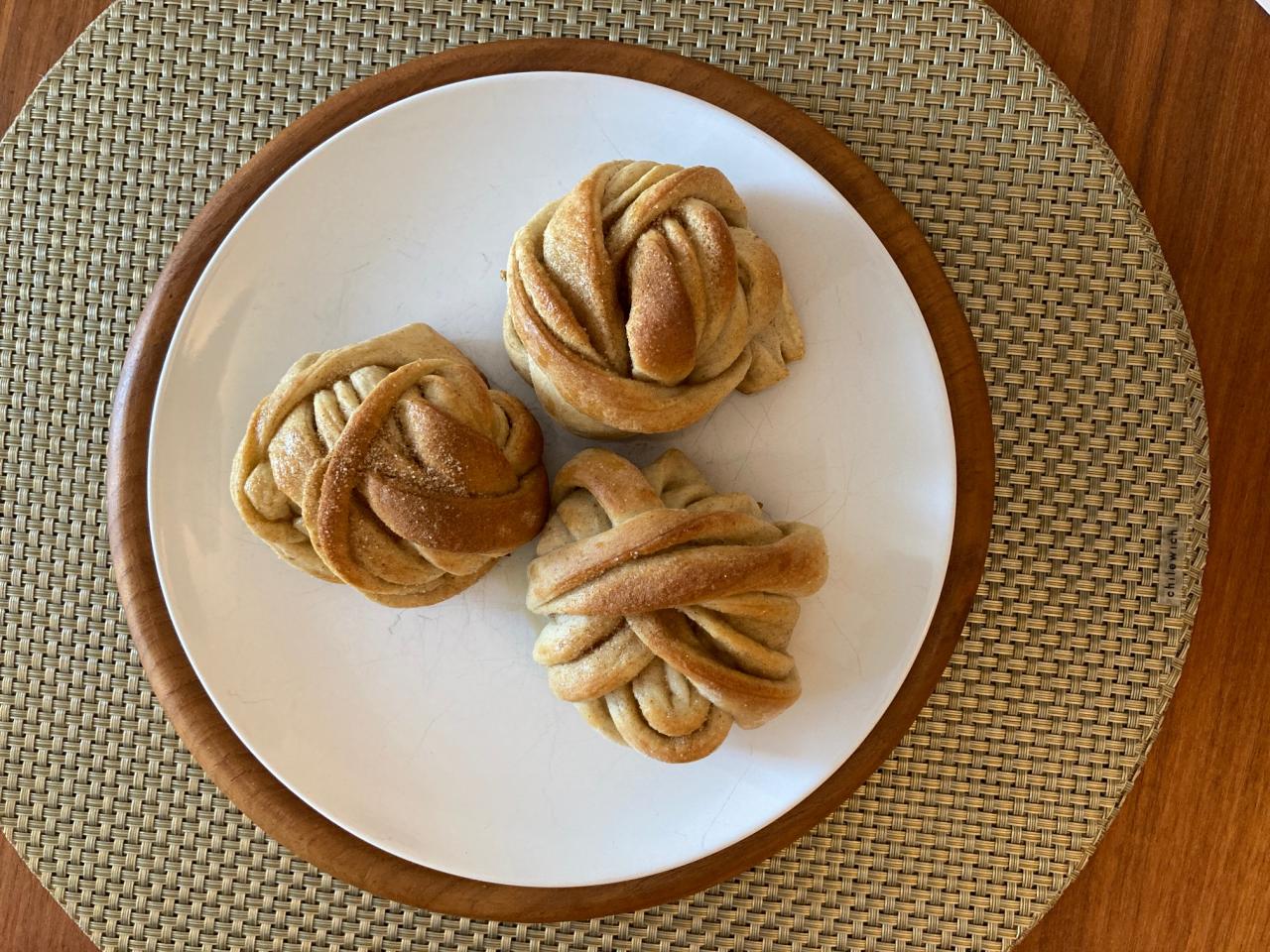 I am familiar with cardamon and baking because of my Finnish heritage but I hadn't had a Swedish cardamon roll until I tried the Cardamon Twists at Birds and Beets in Gastown. They are pretty fabulous and I don't think I'll ever be able to figure out how they do the lattice AND twist combo, but that's ok. My version is based on the Swedish Cardamom Rolls recipe from FixFeastFlair.com but I upped the cardamon (I tripled it and would have been happy to have even more!).
Ingredients
Dough
1 C milk heated to 110F
1 envelop yeast
1/3 C light brown sugar
3 1/4 C flour
1 Tbsp ground cardamon (or more!)
1/4 tsp sea salt
5 Tbsp butter (room temp)
Filling
4 Tbsp butter (softened)
1/3 C brown sugar
2 tsp ground cardamon
Topping
1/4 C  water
1/4 C light brown sugar
1 tsp vanilla
1 tsp cinnamon or cardmon sugar (1:1 ratio)
Method
Dough
In a medium-size bowl or 2 C measuring cup, heat the milk to 110F,  1 tsp sugar and stir in the yeast until it dissolves. Let stand 10 minutes to activate.
In the bowl of your KitchenAid (or stand mixer), use whisk attachment to mix together flour, sugar cardamon, and salt.
Change to the dough hook attachment.
Add activated yeast/milk mixture to the flour mixture and mix on low until dough begins to come together.
Increase speed to medium-low (2) and add butter bit by bit.
Once all the butter has been added, increase speed to medium/medium-high (3 is good) and knead for about 4 minutes.
Remove the dough from the bowl onto a plate while you grease the KitchenAid bowl. Tucking the edges of the dough underneath and place it seam side down in the greased bowl.
Cover with a clean tea towel and let it rise in a warm spot for 50 minutes to 1 hour.
Filling
Combine butter, sugar and cardamon into a creamy paste (don't over mix).
Forming the buns
Preheat oven to 435F.
Line baking sheetswith parchment and set aside.
Roll dough into a 13" x 21" rectangle on a lightly floured surface.
Spread filling evenly onto the rolled out dough from edge to edge.
Fold left side to the middle, than fold the right side over the left side. Turn the dough so that the openings are on the left and right sides and roll out the dough slightly.
Turn the dough again so you have a tall rectangle (you want long strands).
Using a sharp knife or pastry wheel, cut strands 1.5 cm to 2 cm wide (it can be tricky to cut them too thin).
Starting from the end, wrap one strand around the tips of your fingers twice then make like you are wrapping a ball of yarn. Tuck the ends under and place on your prelined baking sheets, (leave enough room for dough to rise and spread during proofing and baking), cover with a kitchen towel and let rise for 30 minutes.
Topping
While rolls are proofing, heat water, light brown sugar, and vanilla in a small saucepan until sugar has dissolved completely. Set aside. Make your cinnamon or cardamon sugar and set aside.
Bake
Bake proofed rolls for 7-8 minutes, reduce oven temperature to 375F and bake another 10 minutes (watch them to make sure they don't get over done (they should be golden brown).
Remove from oven and immediately brush tops with syrup and sprinkle with cardamom-sugar.
Makes 12-16 depending on how thin you roll your dough and cut your strands (I like thin and thin).
---
---