Corn Flour Biscuits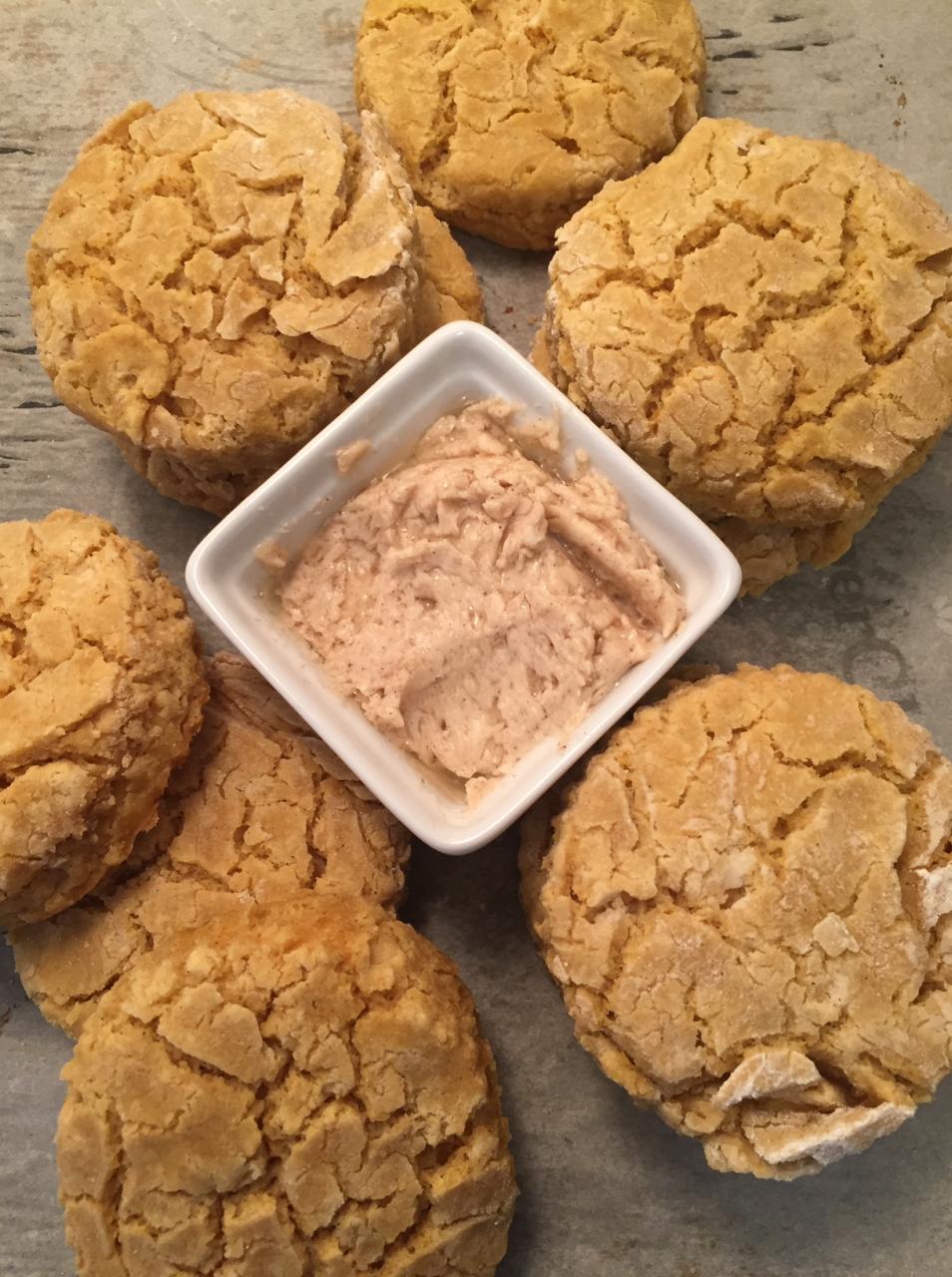 I bought a bag of Corn Flour as part of my exploration of cooking without gluten. Turns out most recipes mix it with regular flour (insert frustrated, frowny-face emoji here). I did manage to find Corn Flour Biscuits with Maple Butter, courtesy of Barry from Rockrecipes.com. He's the b'y that sails the boat and cooks up a storm on the other side of the country in St. John's, Newfoundland. Thank you Barry! I decided I'd just substitute gluten-free flour. I did not give Compliments Gluten-free flour another shot at ruining yet another baking experiment. Sorry Compliments, you've got some work to do. The flour you produce just doesn't cut it. Instead I used Bob's Red Mill 1 to 1 Gluten-Free Flour. I also wanted to avoid milk and Barry's biscuits required buttermilk, which I love, but I have friends who don't drink milk, so I "asked the Google" if you could make buttermilk out of a plant-based milk. The Kitchen Professor said, "Hell Yes." And here's how. Now, I did use butter (I love butter) and lard, but if you wanted to I don't see any reason you couldn't try this with 1/2 cup vegetable shortening. If you do, let me know how it goes.
Ingredients
2 cups gluten-free flour (or regular baking flour if you don't care)
2 cups gluten-free yellow corn flour
9 tsp baking powder
1/2 tsp baking soda
1/4 cup salted butter (very cold & cut in 1/2 inch cubes)
1/4 cup lard (also very cold & cut in cubes)
2 cups plant-based buttermilk (or regular butter milk if it doesn't matter)
Method
Preheat oven to 4oo degrees F.
Make your plant-based buttermilk (it's supposed to stand for about 10 minute to thicken so do this first).
Line a baking sheet with baker's parchment.
Blend the gluten-free flours together with the baking powder and baking soda in a food processor.
Pulse in the cubes of butter until just crumbly like a flaky pastry dough. You want to see small pieces of butter in your four (think a pie crust).
Put the mixture into a large mixing bowl.
Make a well and pour in the plant-based buttermilk.
Fold the dry mixture through the liquid with a spatula until the flour disappears. DO NOT OVER MIX.
Turn the sticky dough onto a floured work surface (use gluten-free flour). It will be super sticky.
Sprinkle the dough with more flour and flour your hands before handling the dough.
Gently pat the dough into a thickness of 1 and a half to two inches.
Use a 2″ biscuit cutter dipped in gluten-free flour and cut out your biscuits (re-dip the cutter as you go so it doesn't stick.) Net time I'm going to be lazy and cut the dough into 2″ x 2″ squares. Who cares if they are round or square? It's how they taste that matters!
Transfer the biscuits to the parchment lined baking sheets and bake for 20 minutes or until the tops are golden.
Serve warm with butter or honey cinnamon butter. If you want to make honey cinnamon butter beat a 3:1 ratio of butter to sweet stuff together with 1/2- 1 tsp cinnamon and let it chill again once incorporated.
---
---