One Bowl Banana Bread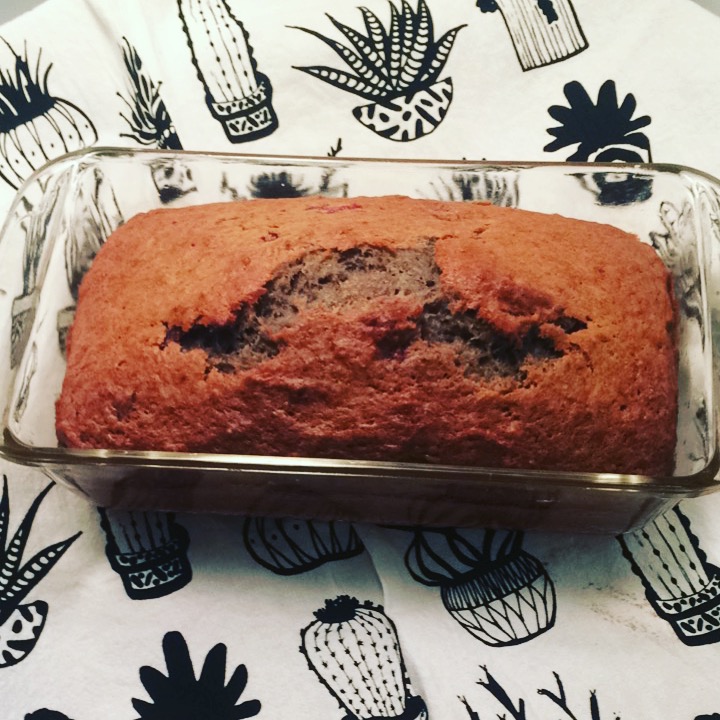 This one bowl banana bread is delicious and can be made with or without the cranberry sauce (I just happened to have some). If you like walnuts or blueberries in your banana bread go ahead and add 1/2 C. If you want to replace the butter with applesauce, please do!
This is my variation on the Banana Bread recipe from Simply Recipes which you can get here.
Preheat the oven to 350F and in a Kitchen Aid with paddle attachment or a regular old mixing bowl incorporate the ingredients in the order listed. Pour into a well greased 4×8 baking pan and bake 50 minutes or until a skewer comes out clean when you poke it in the middle. Allow to cool 5-10 minutes and remove from pan and place on rack to cool completely. Freezes well.
Ingredients
2-3 large bananas, peeled and mashed
1/2 C left over cranberry sauce (optional)
1/3 C melted butter (or a light tasting oil)
1 egg (if you don't have eggs whisk 1 Tbsp ground flax seed with 3 Tbsps cold water)
1 tsp vanilla
1/2 C sugar
1 tsp baking soda
1/2 tsp salt
1 1/2 tsp cinnamon (optional)
1 1/2 C flour
---
---