Orange Zested Shortbread with Salted Caramel and Chocolate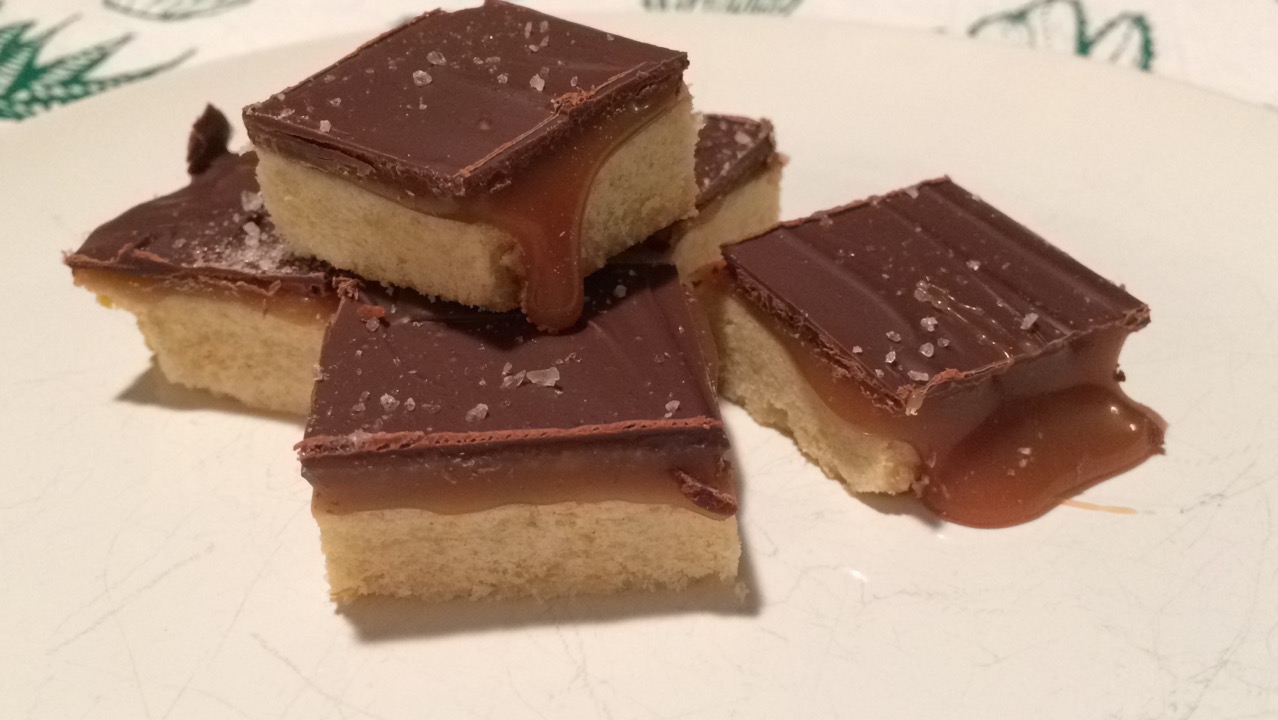 These babies are for my lovely friend Laura Miller who, in the words of all the Dance Girls (our daughters were in dance together for many years), "Laura makes the best water ever!" This may sound like a dig, but I assure you it's not. One year we all went to Kelowna for a dance competition and Laura did a lot of the food…the rest of us, let her (ha!). She concocted three different kinds of flavoured waters from herbs, citrus, berries, veggies and a whole lot of love. They pretty much were "the best water ever!" So, as a thank you, these are for her.
I put together several different recipes for this variation. If you want to make the originals they are:
*I say sisterhood only because the recipes all happen to be from women but I'm 99.9% certain that baking addiction does not discriminate.
Ingredients for the Shortbread
3/4 C sugar
Zest from 2 large oranges
1 C unsalted butter, softened (I used salted and the world did not end)
1 1/2 tsps pure vanilla extract (it occurs to me that almond extract would also pair well with the orange)
1 egg
2 1/2 C all purpose flour
3/4 tsp sea salt
Ingredients for the Homemade Salted Caramel Sauce
1 C granulated sugar
6 Tbsps salted butter, room temperature cut up into 6 pieces
1/2 C heavy cream
1/2 tsp sea salt
Ingredients for the Chocolate on Top
1 300 g bag semi-sweet chocolate chips (or 7 oz bittersweet chocolate, 70% cocoa solids as recommended in the original recipe)
1 tbsp vegetable or sunflower oil (I used coconut oil and it worked beautifully)
1/2 tsp flaky sea salt (I used Pink Himalayan sea salt that I recently acquired…too pretty not to use it)
Method for the Shortbread Layer
Combine sugar and orange zest in a medium bowl, working the zest into the sugar with a fork.
Cream softened butter and orange sugar together until light and fluffy.
Add vanilla and egg and beat until incorporated.
Whisk together the flour and salt.
Gently add dry ingredients into the butter mixture. Mix until ingredients are well combined and a stiff dough is formed.
Press dough evenly into a 9″ x 13″ baking pan lined with parchment paper. Prick holes all over with fork and chill 20 minutes.
Preheat oven to 375°F.
Bake until just golden at the edges, about 16-18 minutes. Allow to cool in the pan completely on wire rack.
Directions for Salted Caramel Layer
Follow the directions for Sally's Homemade Salted Caramel Sauce but reduce the salt to 1/2 tsp.
Instead of cooling completely, let the sauce cool for 2-3 minutes then pour on top of shortbread layer. Let it cool to room temperature, cover and put in the fridge for 1 hour or until the caramel sets up.
Directions for Chocolate Layer
Put the chocolate chips and coconut oil in a microwave-safe bowl and follow the directions for your microwave for melting chocolate. If you don't have a microwave use a double boiler.
Once the chocolate is melted, pour onto shortbread, caramel base and spread smooth.
Sprinkle salt flakes (use a very light hand) on top.
Return to the fridge for at least 30 minutes to let the chocolate set up. I tried to cut these too soon and you can see the ooey goey caramel flowing out.
Mark into squares and cut, wiping the knife blade between each cut.
Notes: I wouldn't cut these any bigger than 1″x 1″ as they pack quite a sweet 'n salty punch. Store in an airtight container in the fridge for up to a week or pop them in the freezer for longer storage (depending on the chocolate it may discolour in the freezer).
---
---