Peanut Butter, Nutella, Chocolate Chip Cookies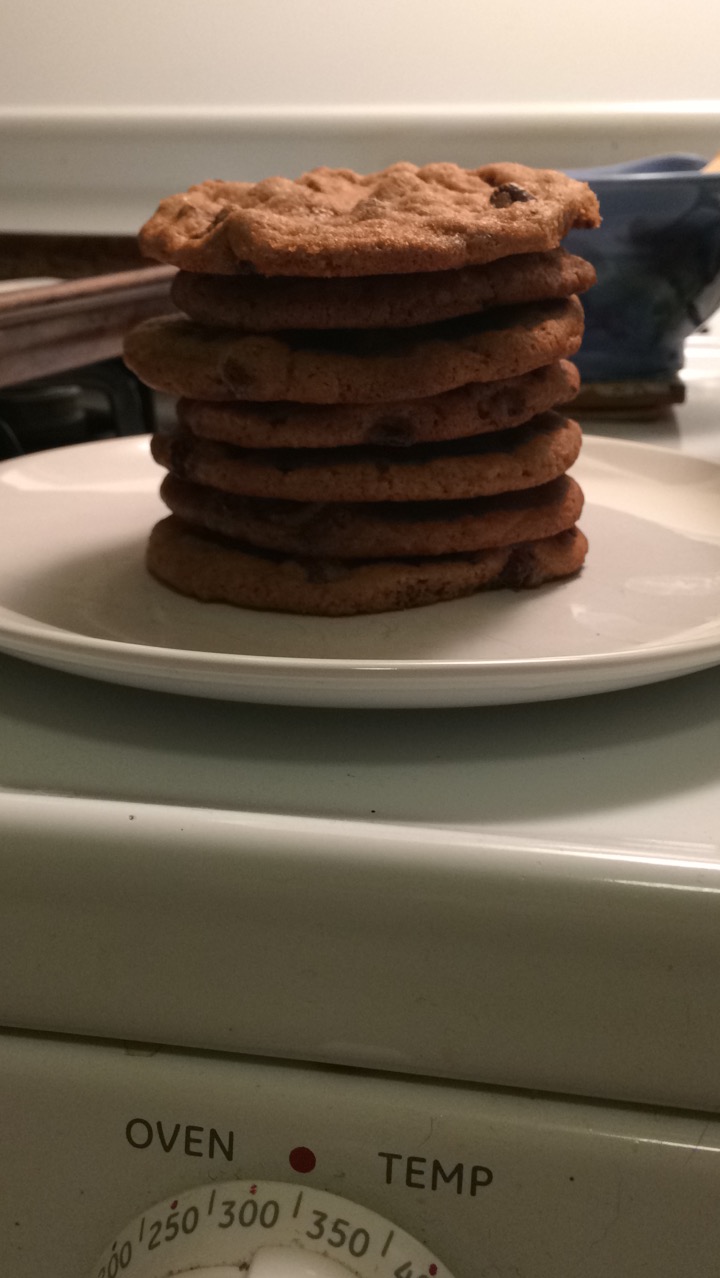 My sweet tooth was bugging me today. I had a massive jar of Nutella and one of Peanut butter that I'm sure I will not get through on my own, so I thought I'd have a go at inventing a new cookie. It's a mash up of the Peanut Butter Chocolate Chip Cookie recipe from Genius Kitchen and this (really very good) recipe for Chewy Peanut Butter Cookies from Chelsea of Chelsea's Messy Apron. My recipe makes a thinner cookie because I didn't melt the butter and I suspect the extra oil in the Nutella made them spread more. However, I'm one of those people how actually prefer the thinner slightly chewy version so I'm very happy with the results. Warning: this cookie is super, super sweet and will send you straight into sugar crash if you have more than one (I tested it).
Ingredients
1 C butter, room temperature
1/2 C peanut butter (smooth or crunchy – I used smooth in this recipe)
1/2 C Nutella or chocolate hazelnut spread of your choice
1 C white sugar
1 C brown sugar
1 tsp almond extract
2 tsp vanilla
2 large eggs (room temperature)
2 C white flour (regular all-purpose)
1 tsp. baking soda
Regular sized bag of semi-sweet chocolate chips
You're going to need to chill the dough for at least 30 minutes (1 hour is better) so don't put the oven on just yet.
Method
In the bowl of a Kitchen Aid with the paddle attachment (you can do it by hand if you insist – I'm lazy), cream butter until light and fluffy.
Add peanut butter and Nutella and cream together.
Add the sugars and mix well.
Add the almond extract and vanilla.
Add eggs one at a time, allowing the first egg to fully incorporate before you add the second.
Measure out flour into a small bowl and add baking soda to it.
Mix the dry ingredients into the wet until just incorporated. Remove the paddle and switch to a spatula or spoon for doing the final mix.
Fold in the chocolate chips and mix until just blended.
Pop in the fridge for 30 minutes to an hour. The dough will be light and airy so it needs to chill so you can form the cookies.
Pre-heat oven to 325
Line a couple baking pans with baking parchment or a silpat liner.
Scoop out golf ball sized portions of dough and place on the lined baking pan leaving a good 2″ gap between each cookie to allow for spread. I got about eight cookies to a pan.
Bake 15 minutes or until firm around the edges not on the tops (don't overbake!).
Let cookies cook for 5 minutes on the pan and then move to a cooling rack.
Repeat until your dough is gone.
Store in airtight container or freeze them.
Makes about 4 doz cookies, more if you were to make them smaller.
---
---