Crepes aka Mummu's Finnish Skinny Pancakes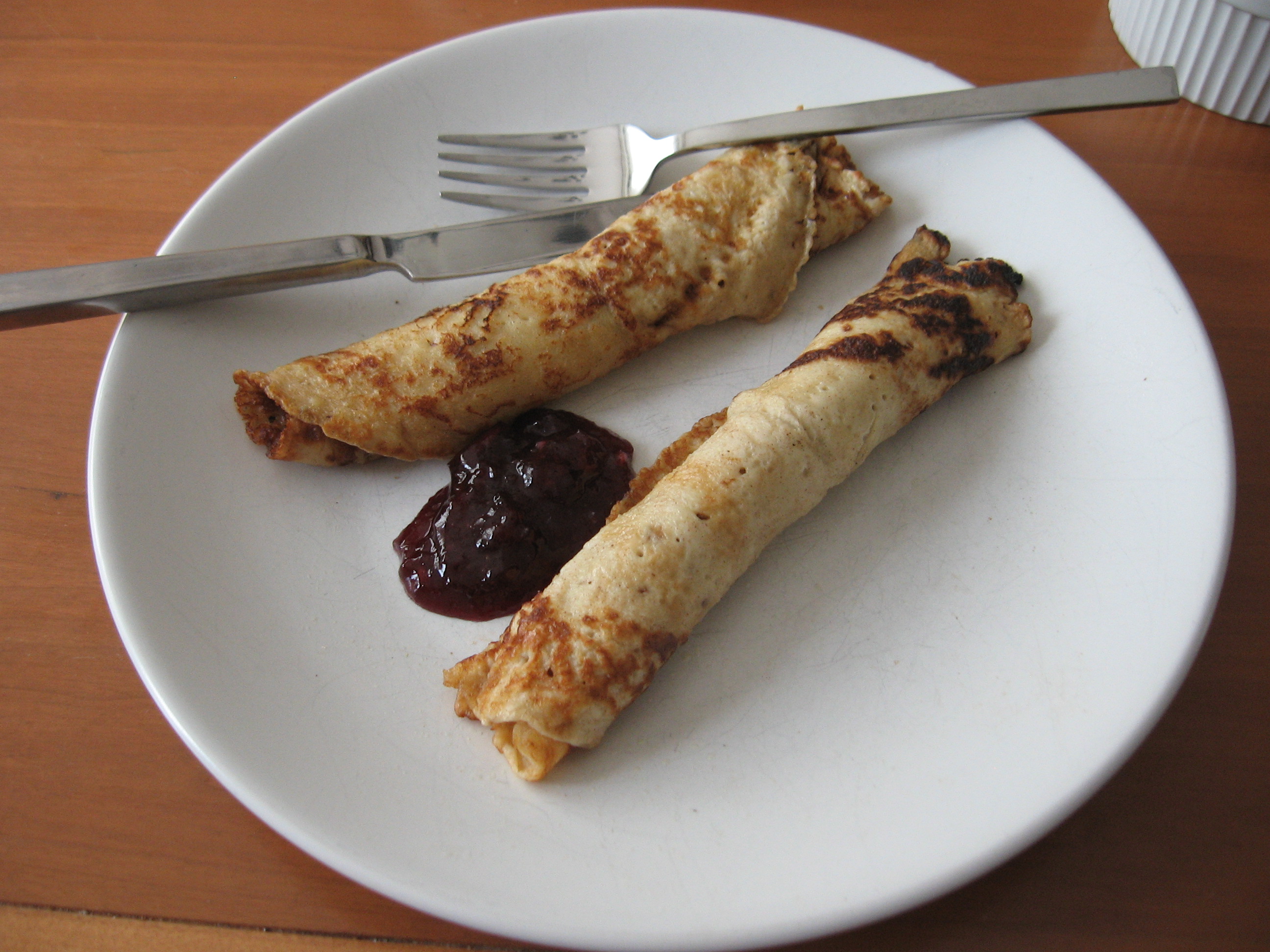 My Mom makes excellent crepes. Light, crispy edges and just a hit of cinnamon. Warning: the "skinny" has nothing to do with calories because they need butter to make them tender. Don't use margarine…please just don't. The secret to these delicious crepes is a smooth batter, a good crepe pan (I use an 8″ French cast iron pan…it's worth the money) and a skinny spatula. Oh and cooking them in a decent amount of butter so they don't stick. Do not cook these in margarine or use that spray gunk…they will taste like dreck and no one wants to eat dreck for breakfast.
Ingredients
3 eggs
2 1/2 c. milk
1 tsp vanilla
1 1/4 c. flour
1 Tbsp brown sugar
1 tsp cinnamon
3 Tbsp melted butter (I use salted so there is no need to add extra salt)
Extra butter for frying the crepes.
Method
Preheat your oven and turn off (you will keep the crepes in here as you cook them). Melt the 3 Tbsps of butter in your crepe pan and let cool. Whisk the eggs together with 1 cup of the milk. Add the flour gradually and whisk until you have a smooth batter. Add the brown sugar and cinnamon and whisk again. Add the vanilla to the remaining 1 1/2 cup milk. Whisk the milk and vanilla mixture in to the batter and then whisk in the melted butter. Make sure your batter has no lumps. Lumps are verboten!
Heat about a teaspoon of butter in your crepe pan (aim for a medium heat). Pour a scant 1/2 cup of batter in your pan and swirl so you get a nice thin crepe. Let it cook until it starts to become opaque and you get some steam pockets (you just have to figure this out for yourself). Flip and cook the other side until lightly browned. The crepe below has been flipped once.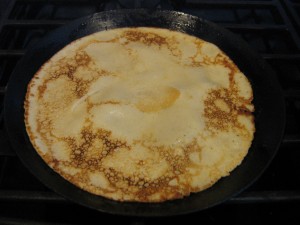 Flip the creme in half and then in quarters and remove to a pie plate and pop it into your warm oven. Repeat until all the batter is gone.
You can serve these any way you like but my kids like to open them flat dust them with cinnamon sugar and roll them. You could spread them with fruit compote, Nutella, or do up a ricotta filling with a bit of sugar and lemon. Or, if you are lucky enough to have real maple syrup (just say NO to that gross fake stuff) then drizzle that on top.
Makes about 12 crepes.
Save
Save
---
---