Warm Steak Salad with Red Wine Vinaigrette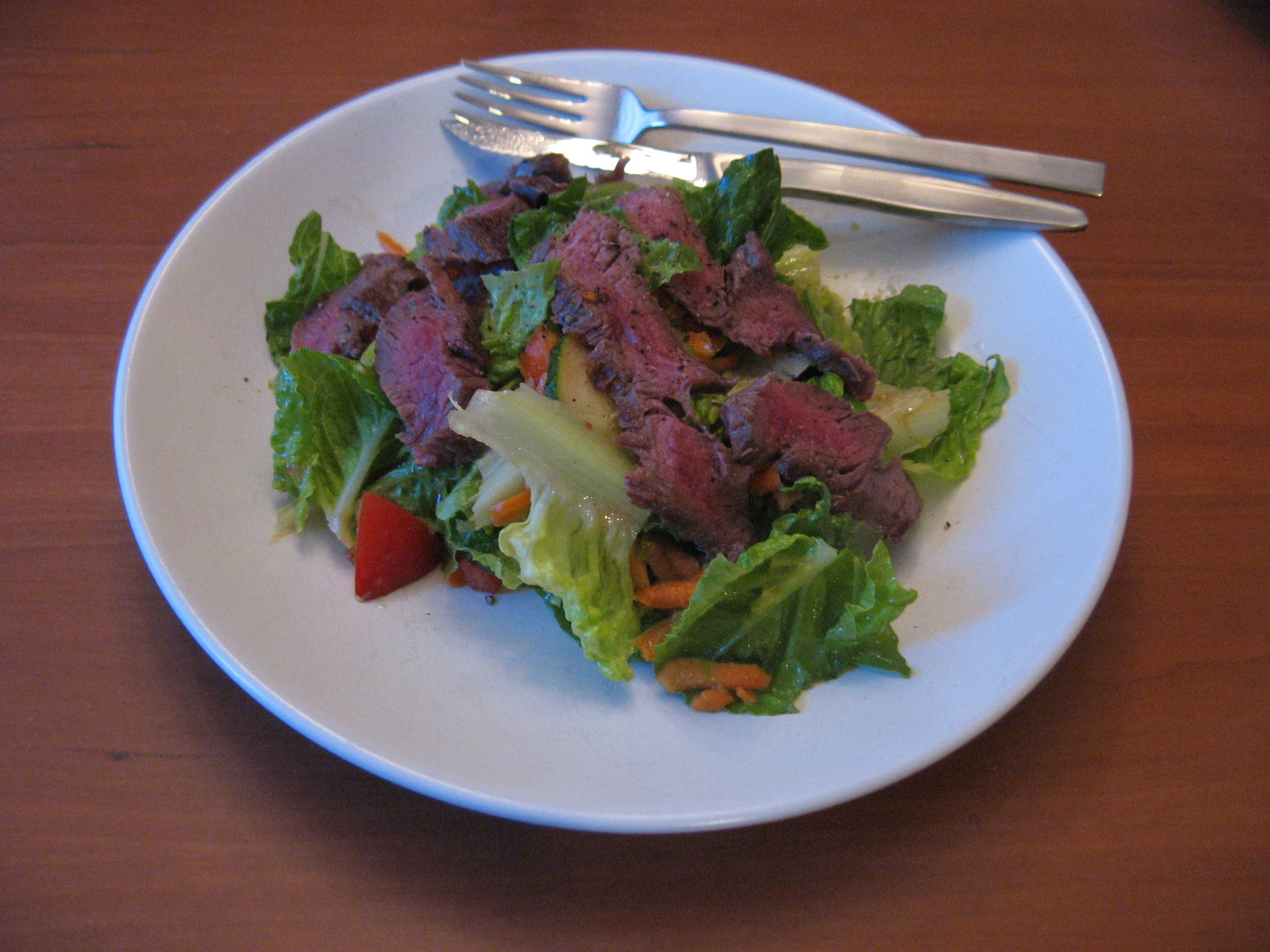 My son the carnivore is heading off to boarding school on Tuesday so I thought this warm steak salad would be a good way to feed him a steak and get some extra veggies into him…also since my daughter "the mostly vegetarian" had already eaten dinner it was a chance to eat red meat with out the, "ewww that's disgusting" look.
Ingredients:
280 g steak marinaded the way you like.
Make the salad and the dressing first but don't dress the salad until you are ready to plate up.
Salad:
2 carrots grated
1/2 English cucumber sliced thin
2 plum tomatoes quartered and chopped in chunks
1 avocado cut in chunks
1 bunch of organic hearts of romaine lettuce torn into bite size pieces
I used my Cuisinart to make the dressing but before I did that I used the grater and slicer disks to do the carrots and cucumber.
Red Wine Vinaigrette:
I used Giada de Laurentis' Red Wine Vinaigrette but decreased the salt to 1 tsp.
1/2 c red wine vinegar
3 tbps lemon juice
2 tsps honey
1 tsp rock salt
Freshly ground black pepper
1 c olive oil
Put all the ingredients except the olive oil in your Cuisinart (or blender). With the speed on low, slowly drizzle in the olive oil.
Pan Fried Steak:
I thought about grilling the steak but I'm forever over cooking it so I followed the pan frying directions from BBCgoodfood.com. Click to view the Youtube video. The 3 minutes per side suggestion worked out perfectly for medium rare. Make sure you let the steak rest before slicing.
Dress your salad with the red wine vinegrette to your taste and put a good sized bed of salad down on a dinner plate. Grind a bit more fresh pepper and salt over top. Slice the steak into 1/4″ ribbons and arranged over top of the salad. Serve. This would have gone very well with roasted new potatoes with rosemary and garlic.
Serves 2.
---
---