Overnight Oats with Frozen Fruit Medley (Peach, Mango, Pineapple and Strawberry)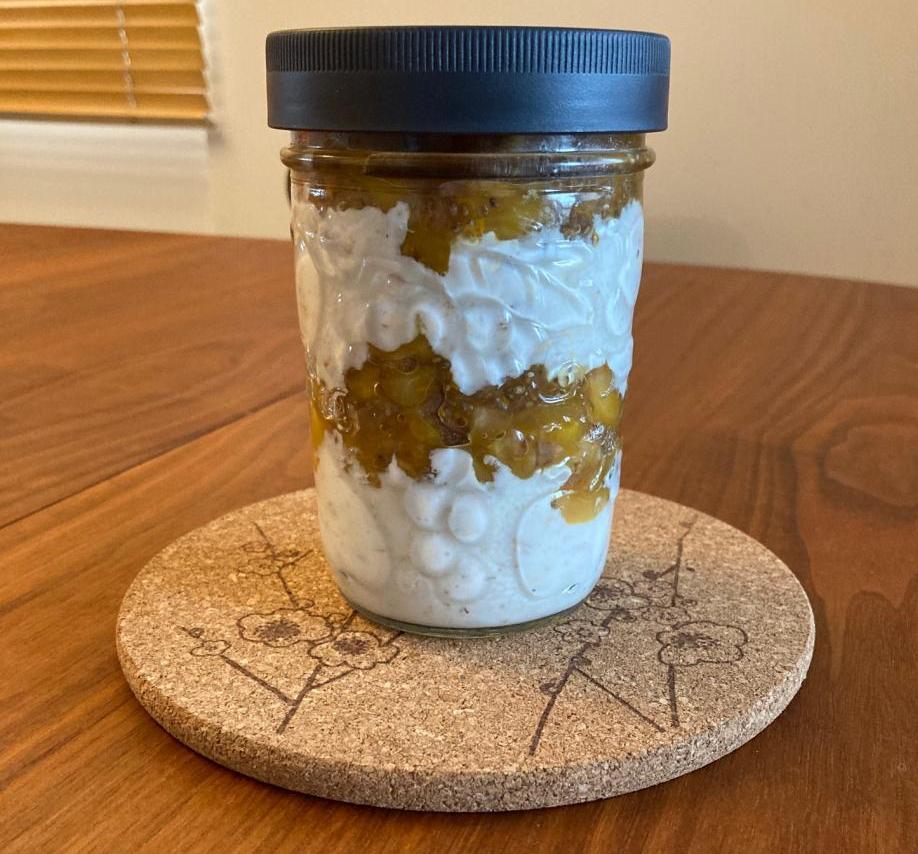 Like many people I've been tackling the "COVID 10" weight gain. Instead of investing in a whole new wardrobe, I decided to try Noom to see whether it might help me drop the extra weight. Part of the challenge is finding stuff I like to eat that works with my paltry daily calorie alotment. As I worship the holy triumverate of pudge (sugar, fat and salt), this has not been easy. This recipe is based on this Blueberry Orange Lavender Overnight Oats recipe. However (as usual), I didn't have half the ingredients and I had frozen fruit I wanted to use up. Plus, I wanted a little hit of sweetness (who doesn't?).
Ingredients
1 cup frozen fruit
Zest of one orange
1/4 cup water
1-2 tsp honey
2 tsp chia seeds
1/2 cup large flake, old fashioned oats (dry)
1/2 cup plain, unsweetened pro-biotic yogurt (2%)
1/4 cup 2% milk
Method
Combine the fruit, water and orange zest in a pot and cook until the the fruit is easy to mush with a potato masher.
Remove from the heat, mash the fruit, stir in the honey and add the chia seeds. Leave the mixture to cool while you mix up the oats.
Mix the oats, yogurt and milk in a bowl. Combine well.
Put half the oats in the bottom of a wide mouth jar. Add a layer of half the cooled chia "jam."
Top the wit the remaining oats and the rest of the chia jam.
Put it in the fridge overnight.
This recipe makes enough oats for two days worth of breakfast.
---
---