Baked Korean Style Chicken Wings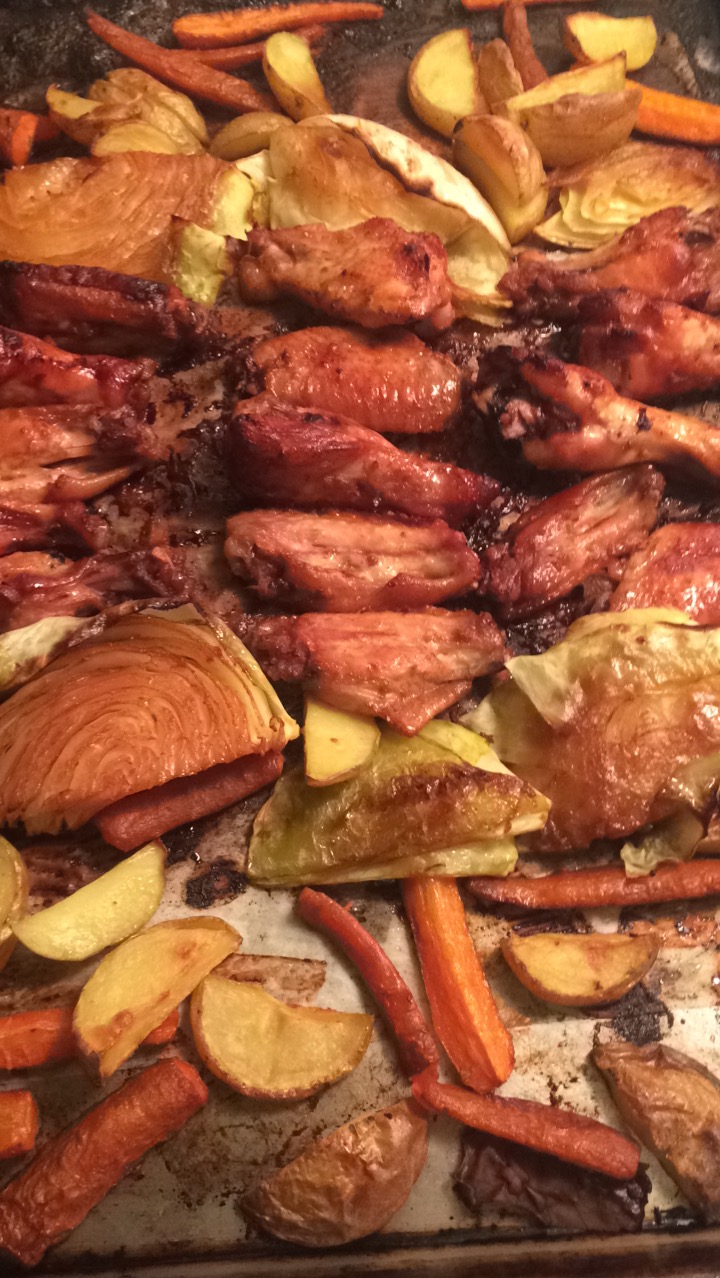 Baked wings round two. I got the initial idea from Meal Prep On Fleek (I love that blog name) which directed me to this Korean chicken and vegetables sheet pan recipe from Dinner and Dessert. Than I saw this recipe from Honest Cooking and decided to combine the two for baked Korean Style Chicken Wings and veg.
Ingredients
1 lb chicken wings, split and tips removed (or 6 bone in, skin on chicken thighs)
4 cloves garlic, minced
1 teaspoon grated ginger root
2 Tbsp brown sugar
4 Tbsp Soy Sauce (I used gluten free Tamari)
1 Tbsp Sesame Oil
3 Tbsp grapeseed oil
2 teaspoons Sriracha sauce
1 teaspoon Honey
3 carrots halved and quartered
4 small potatoes halved and slicked
1/2 a small cabbage, quarters, cored and sliced.
Method
Combine all the marinade ingredients in a container. Add in the chicken wings and toss well to coat.
Cover and put in the refrigerator to marinade for at least 2 hours, preferably overnight.
Heat the oven to 350°F.
Line a baking sheet with parchment paper.
Place the wings in the middle of the pan and surround with your veggies.
Pour the excess marinade over the lot and use a brush to make sure the veggies are brushed with the marinade as well.
Bake for 45 minutes on the middle rack.
Flip the wings and veg and increase the heat to 400°F and bake another 15 minutes.
NOTE:  If you are using bone in, skin on chicken thighs, then bake at 400°F  for 35-40 minutes without turning or until the skin is nice and browned.
And voila…dinner is done. The cabbage in particular is pretty nom, nom because the Sriracha makes it taste a bit like Kimchi.
---
---