Coconut Flour Raspberry Bars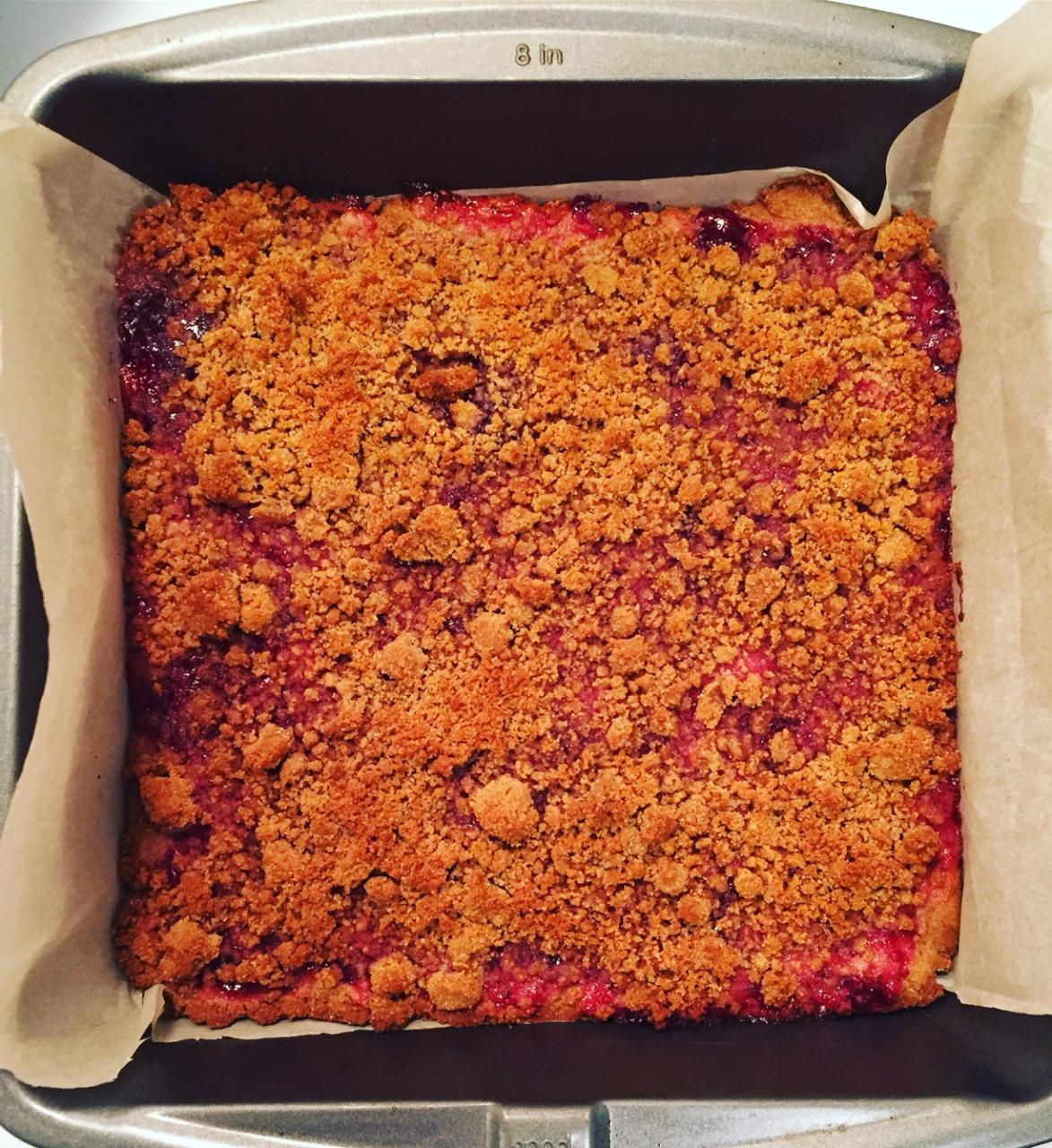 Somehow I ended up with two packages of coconut flour, two large jars of raspberry jam, and two packages of best brown sugar. No, this was not because of pandemic shopping. When this kind of thing happens it's the universe (and my Scottish heritage) telling me that I need to figure out what to make so it doesn't go to waste. I stumbled on Paleo Running Mamma's Raspberry Thumbprint Recipe as I was looking up whether I could substitute coconut flour for almond flour (you can by the way, it's either a 1:4 or 1:3 ratio – coconut flour being the "1"). I used regular jam instead of the super healthy raspberry, chia and maple syrup concoction, and I used brown sugar instead of the maple syrup. I know, I know, I'm sure the uber healthy version is super delicious, but come on people, these are cookies. Or, that is my story and I'm sticking to it.
Ingredients
2 eggs (I used Bob's Red Mill egg replacer)
1/4 cup + 2 Tbsp coconut oil melted
1 tsp vanilla extract
1/4 cup brown sugar
1/2 cup coconut flour, plus 2 Tbsps
1/4 tsp baking soda
1/4 tsp fine grain sea salt
Zest of one lemon
1/4 cup unsweetened shredded coconut
1/2 cup of raspberry jam
2-2 Tbsp fresh lemon juice
Method
Mix dry ingredients in a medium bowl and set aside.
In a large bowl, make the egg replacer by whisking Tbsp of replacer with 4 Tbsp water and letting the mixture stand for 1 minute to let it do it's thing.
Whisk the coconut oil and vanilla into the egg replacer. This is a bit tricky because the egg replacer doesn't incorporate easily. Don't worry about it too much, it will all come together when you mix it into the dry ingredients.
Stir the dry ingredients into the wet ingredients until a sticky dough forms. Use your hands, it's easier.
Cover and chill the dough in the fridge for at least 30 minutes.
Preheat your oven to 350 degrees.
Mix the lemon juice and jam together in a small bowl. Set aside.
Take the dough out of the fridge and crumble it up again. Line an 8×8 non-stick baking pan with baker's parchment and press 3/4 of the crumbled cookie dough into the pan. It helps if you use another piece of parchment to do this.
Bake for 12-15 minutes. Remove from oven and allow to cool for at least 5 minutes.
Spread the jam and lemon mixture over the cookie base.
Mix the shredded coconut with the remaining cookie base and sprinkle over the jam layer.
Bake 12-15 mins or until the jam is bubbling and the crumble layer begins to turn brown.
Remove and allow to cool 5-10 minutes before moving to wire rack to cool completely.
Cut in the pan or remove gently and cut on a board.
Pop the bars in the freezer for a bit to let them firm up. They are good cold.
Note: I was going to roll these into balls and do thumbprint cookies but they would not hold together without cracking when I "printed" them (probably because of the coconut flour). The first time I made these I didn't pre-bake the base and while they were fine, I think pre-baking produces a better result.
---
---