Brown Rice Flour and Parmesan Crackers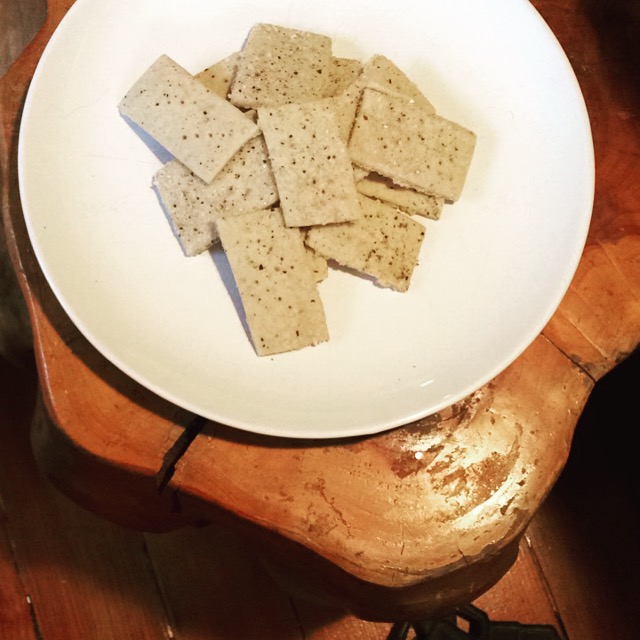 These brown rice flour and Parmesan crackers are the first on what will be a series of experiments in gluten-free crackers. The impetus for said experiments, was born out of a request by friends of mine who own a wine bar in Toronto. Archive 909 is a lively spot on Dundas Street West in Toronto. It has an enviable cellar and a lovely selection of cheeses, charcuterie and small plates. After tasting my Rosemary Pecan Raisin Crackers, Archive 909 co-owner Joshua Corea, asked me whether they were gluten free. Alas, they are not. However, this got me thinking about other options for gluten-free crackers so on my next trip to the grocery store I bought a number of gluten-free stand-ins for the usual flours I use. One of those is a 1-t0-1 gluten free flour from Bob's Red Mill which I plan to use in concocting a gluten-free version of my Rosemary Pecan Raisin Crackers (stay tuned).
This recipe using brown rice flour is much simpler and is adapted from a white rice flour recipe from Holle Cottis at Whole Life Style Nutrition. I happen to quite like salt and pepper crackers and I had a block of Parmesan in the fridge that was begging to be used, so here you have it:  Brown Rice Flour and Parmesan Crackers.
Ingredients
1 C brown rice flour
1/2 tsp sea salt
1/3 C grated Parmesan
2 Tbsp melted butter – plus a bit extra for brushing on crackers before baking
1/3 – 1/2 C of water
Fresh ground pepper and Pink Himalayan sea salt
Instructions
Preheat oven to 325ºF.
Place the brown rice flour and 1/2 tsp sea salt and grated Parmesan cheese in a food processor. Pulse several times to mix.
Add in butter and pulse a few times more.
With the food processor running, slowly add the water until a ball of dough forms. If the dough is too crumbly, add a bit more water, if it becomes too wet, knead in a little more brown rice flour. It is an easy dough to work with.
Place dough on a sheet of baking parchment paper. Cover with a second sheet of parchment and roll out dough as thin as you can.
Place the rolled out dough on a large baking sheet and carefully remove the top layer of parchment.
Cut the dough with a pizza cutter into squares and prick each square a couple times with a fork. Don't worry about uneven edges. You can use these bits as substitute bread crumbs for battering chicken fingers or adding to meatloaf.
Brush the dough more melted butter, sprinkle with fresh ground paper and the Pink Himalayan sea salt
Bake for 15-20 minutes (time varies depending on how thin the dough is).
Crackers are done when they become golden.
Remove from oven and allow to cook slightly before breaking the crackers apart.
Makes a full baking sheet of crackers. I didn't mind these but they definitely have a brown rice texture vibe going on and I think I'd cut back on the salt next time. I also think I'll try adding some different spices for the next batch I make.
---
---