Coconut Flour Crackers with Fine Herbes and Garlic Salt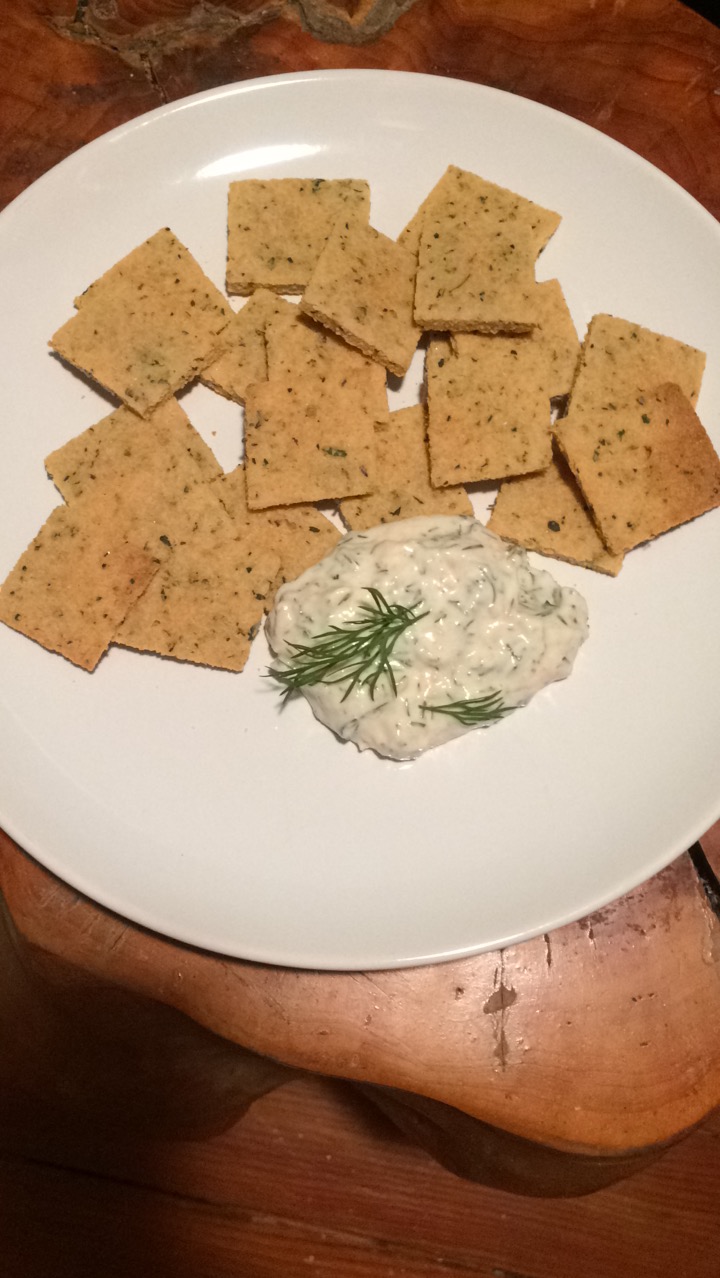 Coconut flour crackers with fine herbes and garlic salt are experiment #2 in pursuit of a decent tasting, gluten-free cracker. Experiment #1 was Brown Flour and Parmesan – to which I say, "meh." They were "ok," but not my favourite. I don't like the texture brown rice flour imparts.
So, on to coconut flour. For this recipe, I modified this Herb Garlic Cracker from the Megan Olson who writes for the PaleoHacks.com blog. Thanks, Paleo Hackers…for the crackers…ahhh ahahha. Ok, ok lame attempt at humour. How about, thank you Megan!
Ingredients
3 Tbsp melted coconut oil (I think butter would also be ok)
3 large eggs (didn't have 4)
1/2 tsp garlic salt
1 Tbsps fine herbes
1/2 C coconut flour
1/4 C corn starch (didn't have any tapioca flour)
Method
Preheat oven to 350° F.
Melt coconut oil in a large glass bowl and whisk in eggs, garlic salt and fine herbes.
Add the corn starch and whisk to combine thoroughly – make sure there are no lumps.
Stir in the coconut flour, a soft dough will form. Knead lightly a couple of times to bring the dough together.
Place dough on a piece of baking parchment the size of the cookie sheet you are going to use to bake the crackers. Top with a second sheet of baking parchment and roll to 1/6″ thick.
Remove top layer of parchment and place the bottom layer with the dough on your cookie sheet.
Bake 10 minutes.
Remove from oven and give them a light dusting of sea salt. Cut the dough into crackers using a pizza wheel, bench scraper or a knife.
Return to oven and bake 8 minutes. Flip each cracker and bake another 5 minutes until golden brown.
The taste was waaaay better on these hearty little crackers. They have a nice nutty flavour that will work well with dips and something like Boursin…or any cheese because…well, let's face it, cheese makes everything taste better. However, coconut flour is also chalk a block full of fibre and you get that sense when you eat these. This is not bad…but I will have to try these with 4 eggs and maybe a 1:1 ratio on the corn starch to coconut flour next time. I also think I'll try a batch with cumin and one using smoked paprika just to see how they turn out. I will also make the crackers a tad bigger so I don't have to spend so much time turning them (lazy, me). In short, I like, I will make again and tweak.
---
---