Gluten-free Lasagna (Italissima test-drive)
I decided to try out Italissima Gluten-Free oven ready Lasagna noodles. You need to make the sauce a bit watery to soften the noodles. I ended up with two extra sheet noodles.
Ingredients
2 Tbsp olive oil
1 large onion diced
2 medium carrots grated
6 cloves garlic minced
1 large can stewed tomatoes (796 mL) with the liquid (you need it for the oven ready noodles)
1 jar Classico Italian sausage, pepper and onions (650 mL) or 2 C of your favourite sauce
2 large zucchini sliced 1/4″ thick lengthwise (think veggie noodles)
1 lb ground beef (turkey or chicken if you prefer) or if you want to go vegetarian and replace the meat with roasted peppers.
salt and pepper to taste
1 C grated mozzerella, plus 1/4 C grated parmesan for the top of each lasagne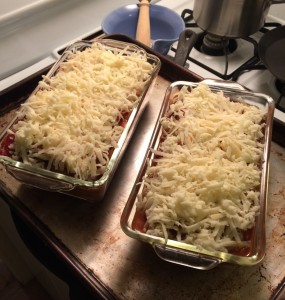 Method
Preheat oven to 350F.
Heat the olive oil in a big frying pan.
Saute onion for 2-3 minutes, add the carrot and saute another couple of minutes.
Add the garlic and stir.
Add the ground beef and saute until the beef is no longer pink.
Add a healthy grind of salt and pepper (to your taste).
Add the stewed tomatoes and the sauce.
Bring to a light simmer, turn off the heat.
Grease or oil two, 1 Qt baking dishes
Ladle 1/2 C of sauce into the bottom of each baking dish, flow with: noodle, layer of zucchini, 1 C sauce, noodle, 1C sauce, zucchini, noodle, 1/2 C sauce. Top with the grated cheeses.
Place on a baking sheet to catch any overflow and bake for at least 30 minute or until a knife inserted goes in and out easily (to make sure the noodles are cooked).
Remove from oven and let stand at least 10 minutes or let cool completely and put in the fridge for the next day. I always think lasagna tastes better on day two.
---
---