Honey Balsamic Pork Loin Chops in the Slow Cooker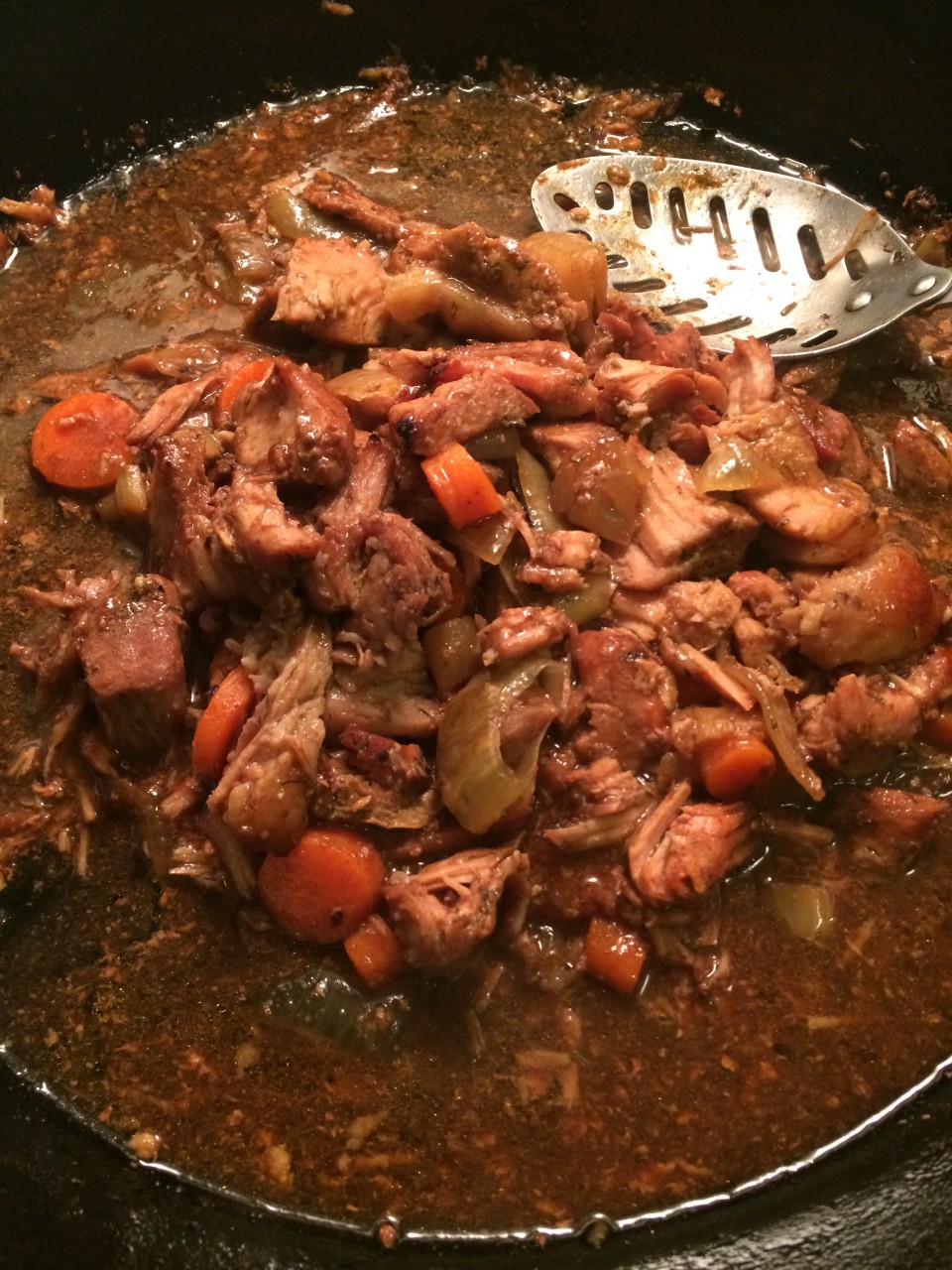 When I go the to grocery store (or the butcher shop) the only plan I go with is to see what's on sale and figure out what to cook from there. Meat is expensive these days! This time, when I arrived at Jackson's Meats in Kitsilano I noticed they had Pork Loin Chops on for $3.88/lb. so I bought the last four. I decided on a slow cooker meal because they are easy to prepare, I can usually find whatever I need in my spice cupboard, and I'm lazy. I adapted this recipe for Slow Cooker Pork Tenderloin with Honey and Balsamic Glaze from Recipe Rebel and just increased the cooking time on low to 8 hours.
I made this on Sunday, broke the chops into bite sized pieces and put the finished meat and sauce in the fridge. For serving the next day I put the works into my big cast iron frying pan and broiled it on the middle rack for 15-20 minutes, stirring a couple of times. I made a pot of rice and dinner was done. It was delicious.
Ingredients
1 large yellow onion cut in have and sliced in thick rings (I always use veggies for "rack" in the bottom of my slow cooker)

4 medium carrots cut in rounds

4

pork loin chops

1

tsp

garlic powder

1

tsp

dried dill (or parsley – I didn't have any parsley)

1 tsp dried rosemary

1/2

tsp

sea

salt

1/4

tsp

black pepper

1/2

tsp

onion powder

1/2

tsp smoked

paprika

1/3

C

chicken broth

2

Tbsp

honey

3

Tbsp

balsamic vinegar

1

Tbsp

ketchup

2

teaspoons

corn starch

1/4 C white wine
2 Tbsp butter
Instructions
Place the sliced onion and carrots in the bottom of the slow cooker.
In a small bowl, whisk together the broth, honey, balsamic vinegar, ketchup and corn starch and pour into the slow cooker.
In a pie plate, combine garlic, dill, rosemary, salt, pepper, onion powder and paprika. Rub over all sides of the chops place in the slow cooker standing on their sides with fat side up.
Cover and cook on low for 6-8 hours.
Remove meat and onion from the slow cooker to a cutting board and let rest for 5 minutes before slicing.
Pour juices from slow cooker into a small pot, bring to a boil, add the wine, stir and reduce by half.
Whisk in the butter and serve over the pork
Serves 4
---
---