Turkey Croquettes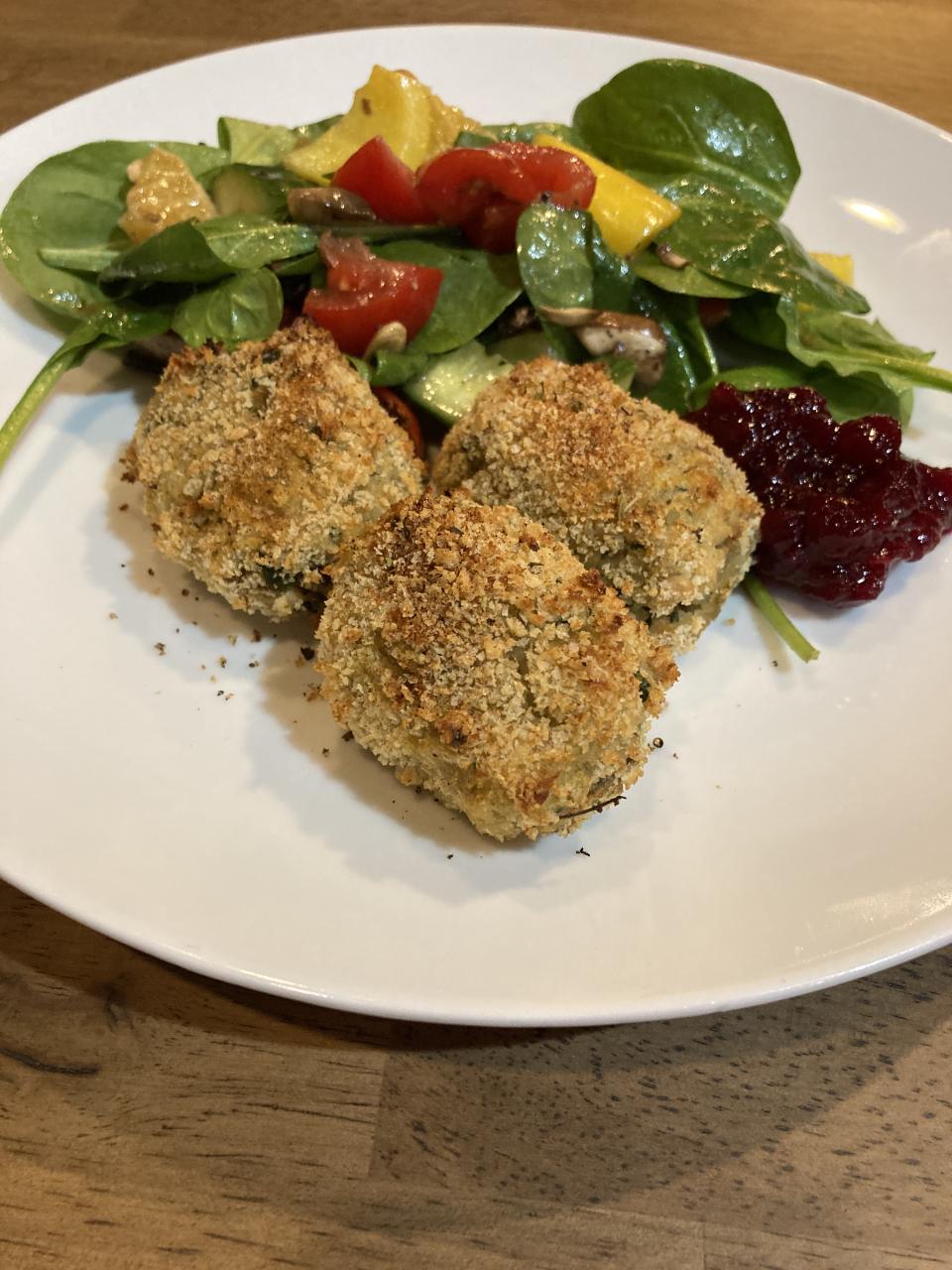 Turkey croquettes are a great way to use up leftover turkey and mashed potatoes. This recipe is adapted (with thanks) from the Baked Turkey Croquettes recipe from Skinnytaste.com.
Ingredients
2 cups cooked leftover turkey, minced fine
1 cup mashed potatoes – left overs or boil up three large potatoes and mash them with 1/4 cup of the turkey stock
3/4 cup turkey stock or other broth
2 tsp olive oil
4 cloves garlic, minced
2 large shallots, chopped
1/2 cup parsley, chopped
1/4 cup fresh thyme, chopped
1 spring fresh rosemary, chopped
salt and fresh ground black pepper
1/2 cup bread crumbs
1 egg, whisked
leftover turkey gravy, cranberry sauce or loganberry jam for serving, optional
Method
In a large bowl, mix the mashed potato with 1/4 of the turkey broth, add salt and pepper to taste and set aside.
Sauté garlic, and onions in oil over low heat. Add the herbs and cook until onions are translucent.
Add the minced turkey and the remaining broth, mix well and remove from heat to cool completely.
Add turkey mixture to mashed potatoes and mix well. Adjust seasoning if needed.
Preheat oven to 450°F.
Using 1/4 cup of mixture form into croquettes (use wet hands to keep it from sticking). Place on baker's parchment and repeat until all the mixture is gone.
Dip each croquette in whisked egg mixture, then roll in breadcrumbs and place on a baker's parchment lined cookie sheet.
Sprinkle with salt and pepper to taste and any extra seasoning you like.
Bake 15-20 minutes, or until golden.
Serve with gravy, cranberry sauce or lingonberry jam
---
---