Banana Apple Sauce Muffins with Coconut Oil and Chocolate Chips (DF)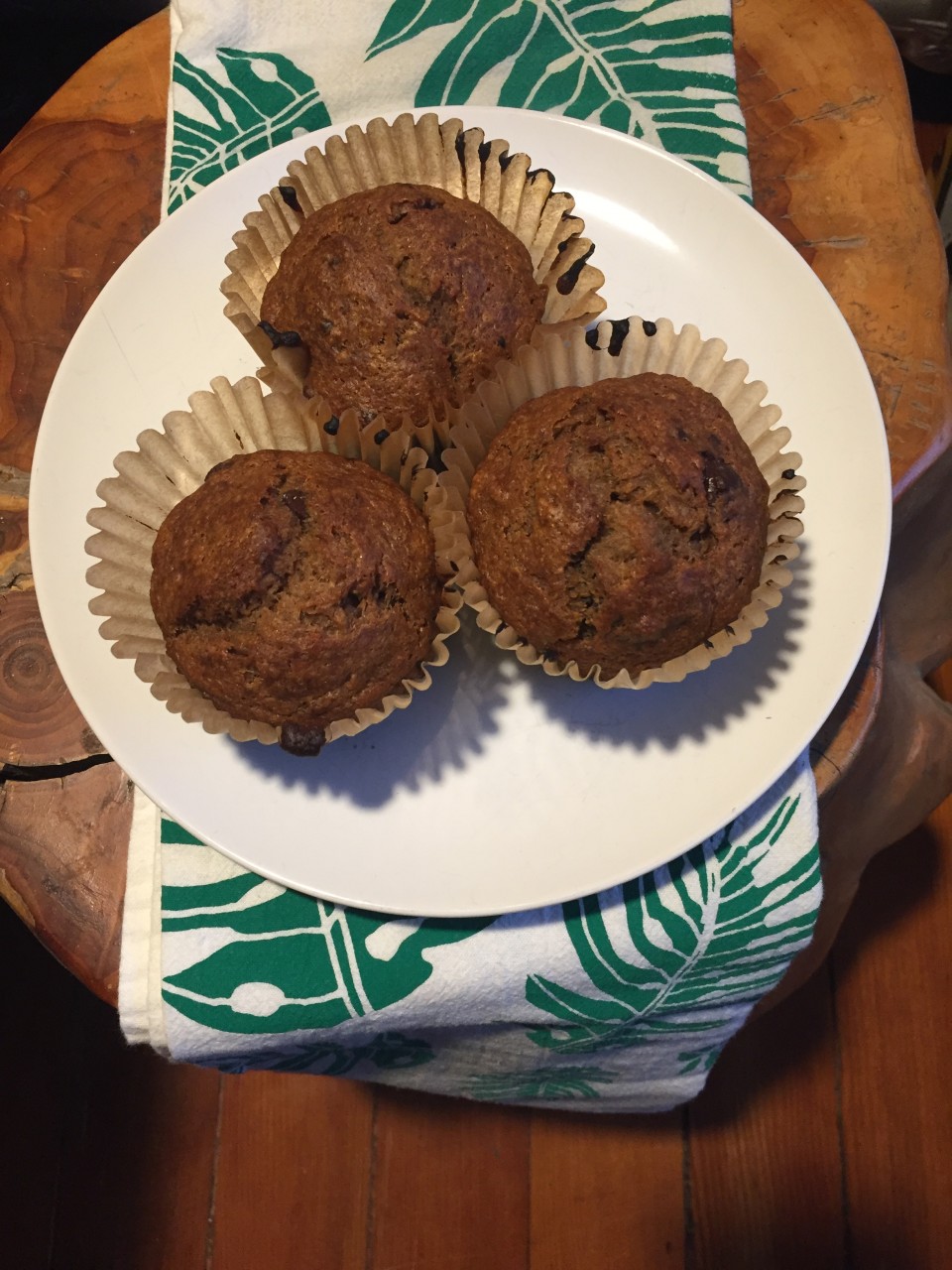 Have brown bananas? Yay! Make these banana apple sauce muffins. I used the recipe for Quick & Easy Banana Muffins from Sally's Baking Addiction as a base and swapped apple sauce for the milk and threw in a cup of chocolate chips. The apple sauce keeps the muffins moist and makes them dairy free. The chocolate chips…well that should be obvious.
Ingredients
1 1/2 C flour (could use your favourite gluten-free flour)
1 tsp baking powder
1 tsp baking soda
1/2 tsp sea salt
1 heaping tsp cinnamon
3 ripe bananas
1/4 C apple sauce
6 Tbsp coconut oil, melted and cooled
1/3 C coconut sugar
1/3 C brown sugar
1 egg (you could use flax eggs if you like 1 Tbsp ground flax whisked with 3 Tbsp water)
1 tsp vanilla
1 C chocolate chips
Instructions
Preheat your oven to 425°F.
Line a 12-cup muffin pan with parchment muffin cups.
In a large bowl or your KitchenAid with the paddle attachment, mash the bananas.
On low, add the apple sauce, coconut oil, sugars, egg, and vanilla. Mix until well combined.
Whisk the flour, baking powder, baking soda, salt, and cinnamon, together in a medium bowl.
With the mixer on low, add the dry ingredients and beat until combined.
Remove the bowl from the mixer and stir in the chocolate chips. The batter will be quite loose.
Spoon the batter evenly into muffin cups.
Bake for 5 minutes at 425 then, reduce the temperature to 350°F  and bake for an additional 18 minutes or until a cake tester comes out clean.
Remove from the oven and allow to cool for 5 minutes, then transfer to a wire rack to cool completely.
---
---