Banana, Blueberry, Buttermilk Muffins (aka 3B Muffins)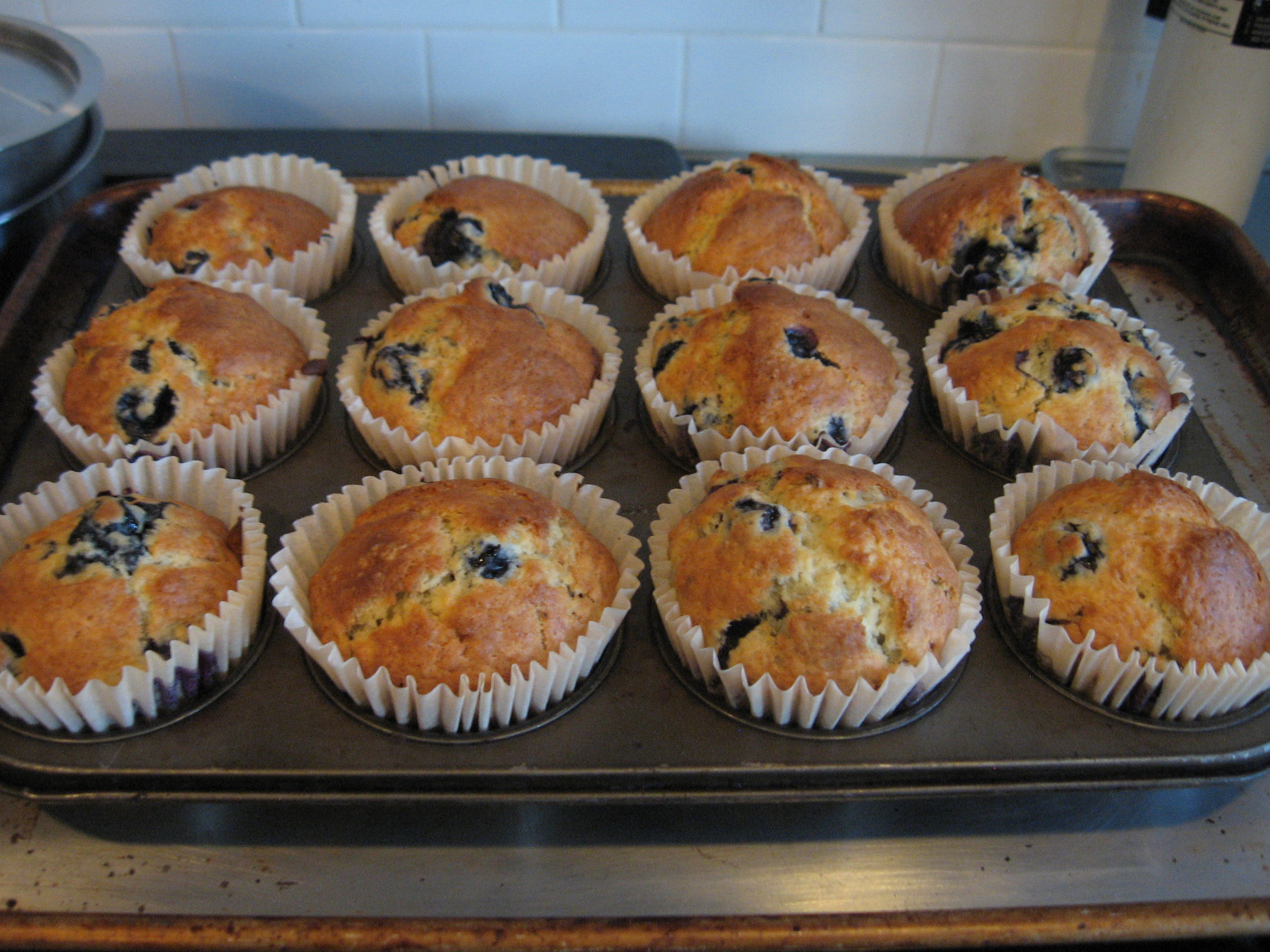 My freezer had a good sized banana graveyard and some frozen blueberries I had painstakingly frozen on trays. In addition I had  some soon-to-expire buttermilk in the fridge so it was time to take action. The result are these moist and delicious banana, blueberry, buttermilk muffins. The recipe is an ad lib from a blueberry buttermilk muffin recipe from Food.com. It didn't call for bananas but I was intent on reducing the dead banana quotient in my freezer so I opted to take liberties with the dry to wet ingredients ratio. Yes, I know baking is chemistry…I threw caution to the wind (mwa ha ha). You can get the original directions here.
Ingredients:
2 1/2 cups flour
1 1/2 teaspoons baking powder
1/2 teaspoon baking soda
3/4 cup sugar
1/4 teaspoon salt
2 bananas (let thaw slightly if using from the freezer)
2 eggs, beaten
1 cup buttermilk
1/2 cup grapeseed oil
1 1/2 cups blueberries
Directions:
Preheat your oven to 400 F and line a muffin tin with 12 extra large parchment liners. You could probably use those tulip papers as well but I didn't have any.
Sift dry ingredients together in a large bowl. Set aside 1/2 cup of the flour and toss that with your blueberries, especially if they have come from the freezer, to keep them from sticking together. In your Kitchen Aid (or by hand in another medium sized bowl), beat bananas, eggs, buttermilk and oil together. Make a well in dry ingredients and pour in liquid ingredients, mixing quickly. Fold in the blueberries and flour mixture. Spoon batter into the lined muffin cups and bake 20-30 minutes (until golden brown)
Bake at 400 F for 20 -30 minutes.
---
---