Deconstructed Salade Niçoise with Seared Ahi Tuna – Mother's Day Dinner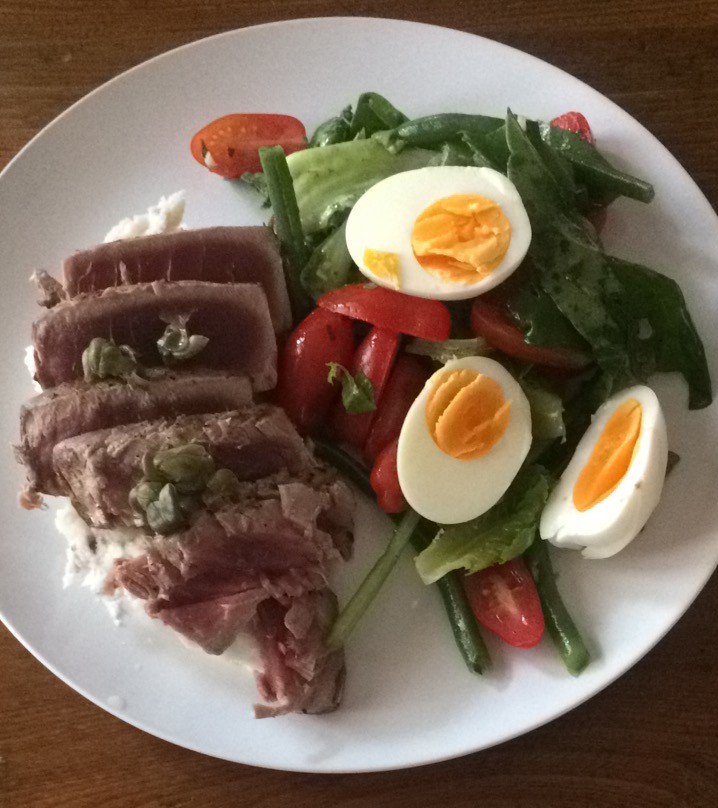 My Mother's Day dinner of choice was a Salade Niçoise with seared Ahi tuna. We are a family who cooks and a dinner out is the exception not the norm so my son, who is home from Uni for the summer (yay!) helped me prepare what turned out to be a restaurant quality dinner. A fail (over cooking the potatoes) turned into a triumph by making a mashed potato bed for the tuna. Oh and I forgot to buy anchovies and chives, and my son is not an olive fan, so I guess it was a little more deconstructed than usual, but the flavours were wonderful.
We based this adventure on Tyler Florence's Salad Nicoise with Seared Tuna – it's the real deal and I'm sure it's wonderful but if you want to make our version…read on.
Ingredients
Dressing
2 cloves garlic, mined fine
3 Tbps Italian flat leaf parley, chopped
3 Tbsp fresh Tarragon, minced
3 Tbps red wine vinegar
1/2 lemon, juiced
1 tsp prepared Dijon mustard
1/2 C olive oil
Sea salt and fresh ground pepper to taste
Combine ingredients in a jar and shake until emulsified (or use a whisk and a bowl). Set aside to let the flavours develop.
Salad
1 lb new green beans, washed with ends trimmed
4 eggs
1 large handful of baby spinach and 1 large handful of fresh romaine (enough organic greens to make a decent sized salad)
1 pint marzano tomatoes (or cherry tomatoes…or frankly whatever tomato you like), sliced lengthwise
capers for garnish
1 lb new red potatoes – cut in 1″ pieces or left whole if they are baby potatoes
Glug of olive oil
1/2 C sour cream
Rosemary rock salt and fresh ground pepper
Seared Tuna
1 lb Ahi Tuna (the fresher, the better) – or enough for the number of people you are serving.
Method
Fill a large pot (6 Qt pot with lid) with water. Add a healthy pinch of rock salt, and add the potatoes making sure there is enough water to cover. You're going to be adding the eggs and beans on top later so make sure you've got enough water in the pot.
Bring to a boil over medium heat. Simmer the potatoes for 10 minutes, then add the eggs.
Place a steamer basket or colander on top of the simmering water. Add the green beans in the steamer and cover with a lid. Allow to steam for 5 minutes until the beans are crisp-tender. Remove the beans and run under cold water, set aside.
Once the potatoes are fork tender, remove the eggs (rinse under cold water) and drain the potatoes.
Add a good glug of oil to the potato pot, add the potatoes back and mash with the sour cream. Salt and pepper to taste. It occurs to me some sliced green onions would be a nice addition.
 Peel the shells off the eggs and cut them in 1/2 lengthwise. Set aside for later.
Make the salad by tossing the greens (use whatever greens you like), tomatoes, cooled green beans and dressing.
Rub a little olive oil on all sides of the tuna and drizzle 1 tsp of the dressing on the front and back of the fish, season with salt and pepper.
Heat a skill over medium-high heat. Sear the tuna for approximately 2 minutes on each side; as the tuna cooks, the red meat will become whiter. Transfer the tuna to a cutting board and let cool for a minute before slicing.
To plate, make a bed of mash potatoes, lay tuna slices on top, garnish with capers. Pile the salad on the side and garnish with the egg halves.
Serves 2 – it was excellent!
---
---