Shaved Fennel Salad with Lemon and Parsley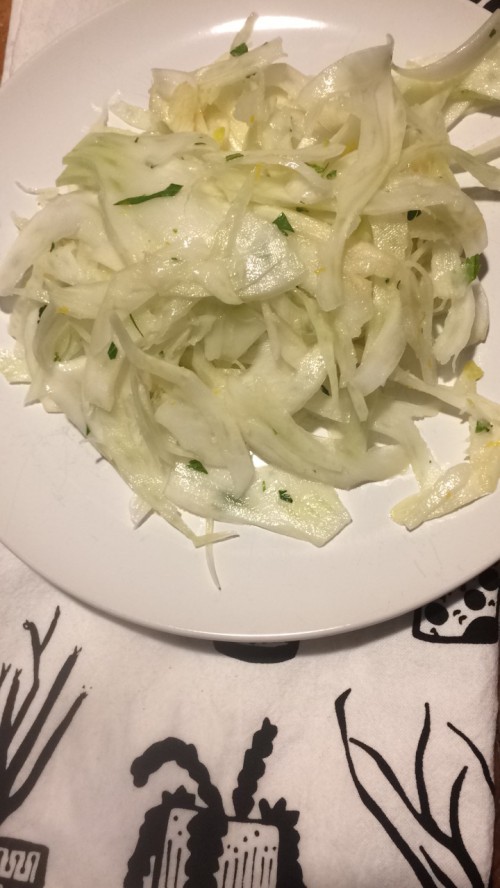 My dear friend Paula, gifted me her brand spanking new fancy, schmancy Cuisinart (think the Binford 3000 of Cuisinarts) because she felt guilty about not using it enough. I have promised to use it enough for the both of us…starting now.
I had a massive fennel bulb in the fridge and I've been wanting to replicate this amazing shaved fennel salad that I had years ago at Salt Tasting Room in Vancouver (yes, it was that good).
So, first off I had to figure out how to put together my new toy without cutting my fingers off. That done with no major (or minor) blood loss, it took me less than 5 minutes to produce a full bowl of paper thin fennel slices (so fast, so easy…yaaaaaay).
I lifted the recipe from the wonderful Elise Bauer and her Simply Recipes blog (thank you Elise!) with a few minor mods. You can make Elise's recipe here.  Mine follows and OM$G is it good.
Ingredients
1 good-sized bulb of fresh fennel (if it's droopy, it's soupy and not for this salad).
1 Meyer lemon, zested and juiced
2 Tbsp organic olive oil (you could probably use whatever light tasting oil you like)
1 Tbsp chopped Italian flat leaf parsley
1 tsp sea salt
2 Tbsp freshly grated Parmesan
Method
Wash and quarter fennel, remove the tough core and any wilty bits.
Using the slicing disc set to 1 mm whiz the lot through the Cuisinart (or you could use a mandolin or if you have superstar knife skills, have at it).
Put the sliced fennel in a bowl large enough to do a bit of tossing.
Using a microplane, zest the lemon and dump the zest on top of the fennel.
Drizzle the olive oil on and add the chopped parsley and sea salt.
Juice the lemon and pour it over the fennel.
Toss gently.
I used my microplane to grated 2 Tbsp of fresh Parmesan, give it another gentle toss, and serve.
Notes: Serves 6-8
---
---