Rutabaga and Carrot Mash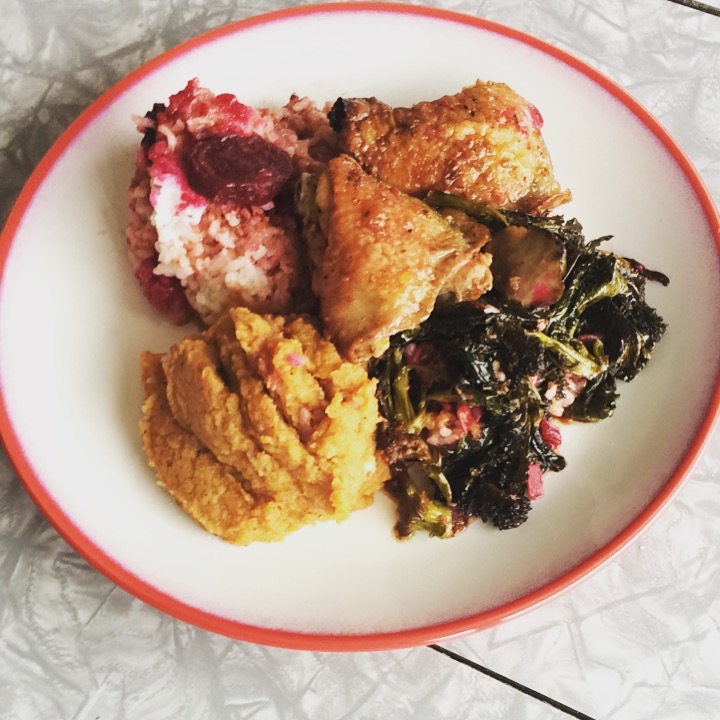 This past week my Organivores box contained some lovely carrots and a couple of rutabagas. Rutabaga (also know as swede) is not to be confused with turnips that are much stronger in taste. Although, there is no reason you couldn't use turnip in this recipe if that's what you had on hand. Anyway, while looking for recipes I came across a Ricardo Magazine's recipe for Mashed Rutabaga and Carrots. I used it as a base for cooking the rutabaga and used up the 2 cups of carrots I had left over from my Roasted Carrots with Sumac and Yogurt Sauce. I think roasting the carrots adds a bit of depth but it's not strictly necessary.
Ingredients
2 medium rutabaga peeled and cubed
1 small onion, diced
2 cloves garlic finely chopped (optional)
2 Tbsp olive oil
2 Tbsp butter
1 Cup chicken or vegetable stock
1 tsp honey
Salt and pepper to taste
2 Cups roasted carrots
Note: If you don't have roasted carrots increase the butter to 4 Tbsp and the stock to 2 Cups and chop up 2 Cups worth of carrots and saute them with the rutabaga.
Method
In a large frying pan with deep sides (or a pot), saute the onion in the oil and butter about 3 minutes until translucent.
Add the rutabaga and saute until lightly browned.
Add the garlic and season with salt and pepper. I don't like adding the garlic too soon because if it browns it gets bitter.
Add the stock and bring to a boil. Cover and simmer until the rutabaga is tender (about 20 minutes). Check it with a fork (it needs to be mashable).
Drain, keeping the broth aside (you are going to add it back as needed).
In a food processor, purée the vegetables with the honey until smooth, adding broth, if needed.
Adjust the seasoning.
This can be made the day before and reheated with whatever you are making. In this case I was making the roasted purple sprouted broccoli, sunchokes, and Citrus Spiced Chicken pictured.
Makes enough to feed 6.
---
---