Red Lentil Soup with Lemon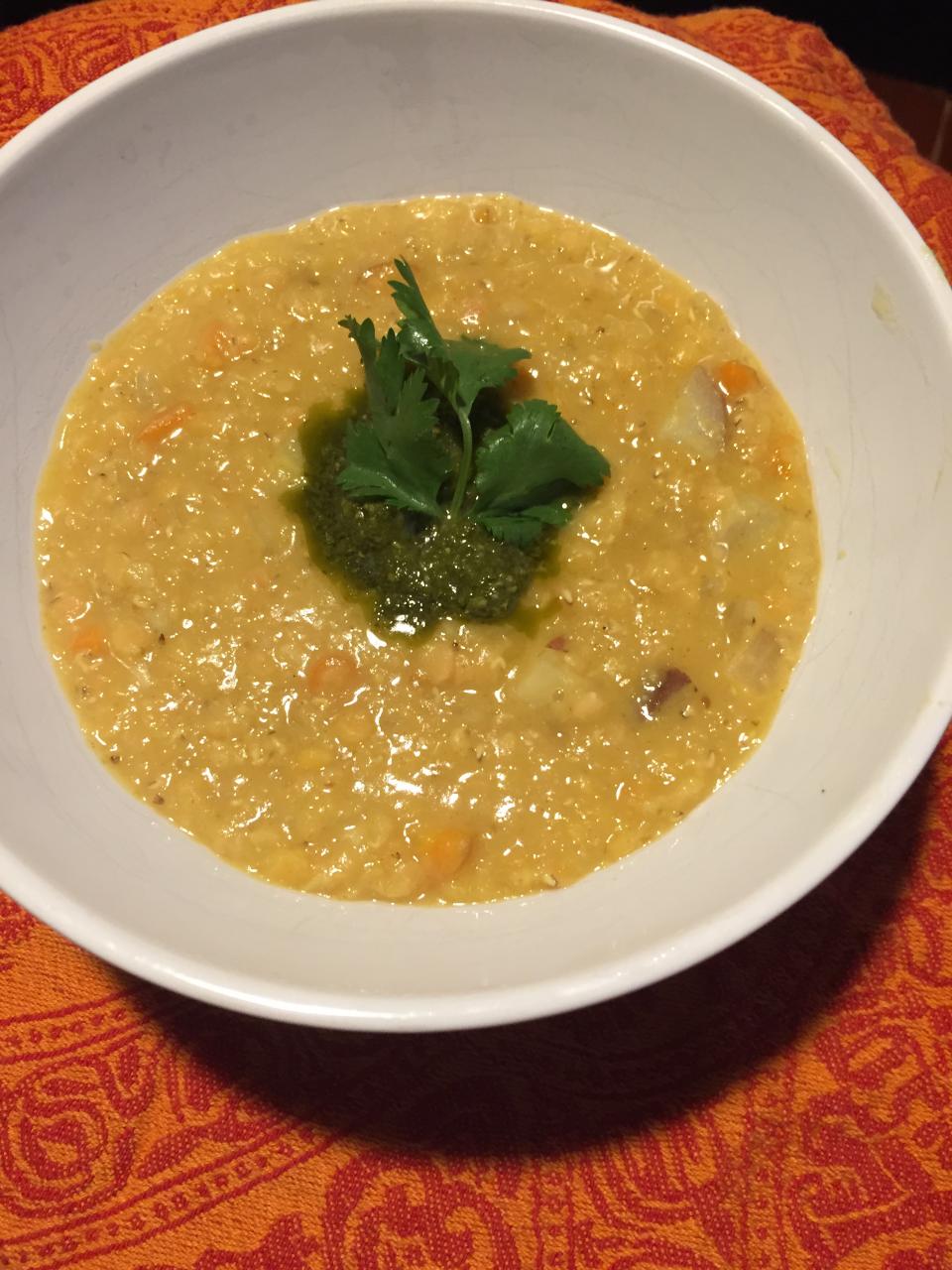 This recipe is based on a lentil soup recipe I found in Thug Kitchen: eat like you give a fu#K which I happened to flip through at a friend's place. The "thugs" are an interesting couple whose mission is to verbally abuse you into eating healthy. The cookbook is meatless (great for meatless Monday or those on the road to veganism – they don't use animal products in anything). Their website is pretty cool and they have a podcast. You can check them out at Thug Kitchen.
I'm not giving up meat anytime soon, but I am not opposed to trying vegan and vegetarian recipes as part of a healthy diet and this one caught my eye. Also, my son happened to have his wisdom teeth out a couple of days ago and was sick of scrambled eggs and mashed potatoes!
I did tweak it a bit including the spice front (kind of whimpy for thugs…sorry guys).
Ingredients
1 Tbsp olive oil or coconut oil (I used a bit of both)
1 yellow onion, diced
6 little red potatoes, diced
bunch of fresh carrots, diced (about 1 C)
4 cloves garlic, minced
2 tsps ground coriander (I ground it from seed in the coffee grinder I use for spices)
1 tsp ground cumin
1 tsp turmeric
1 tsp kosher salt
2 C red lentils, rinsed
6 C vegetable broth (I just used 3 McCormack's vegetable cubes)
zest and juice of 1 lemon
1/2 C chopped cilantro (optional)
Method
In a large soup pot saute the onion until it starts to go translucent.
Add the carrots and potatoes and continue sauteing.
Add the garlic and the spices and saute for another minute or two until they become fragrant (you'll know).
Add the salt, lentils and broth.
Bring the works to a boil and reduce heat to a simmer. Let simmer uncovered until the lentils fall apart, this won't take long (approx. 25 minutes). Stir every now and then.
After the lentils and veg are cooked, turn off the heat and add the zest and lemon juice. You could put it through the blender if you wanted a completely smooth soup, but I didn't think that was necessary.
Serve with a dollop of Chimichurri (the vinegar in the chimichuri brigthens the whole soup).
Serves 8 easily. It was delicious.
---
---