Vegetable Soup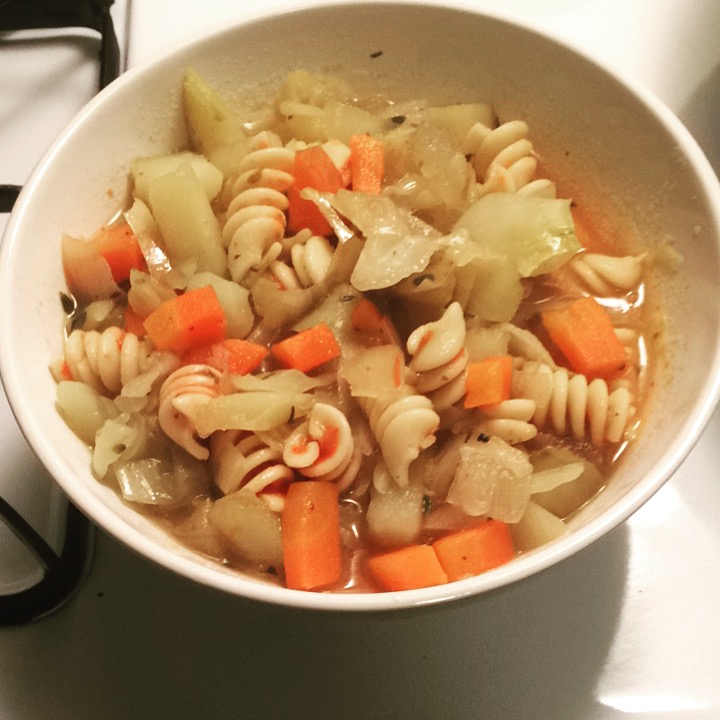 Vegetable soup is hardy, nutritious and easy on the budget. I was reminded of this when I recently attended a Soup Sisters event here in Vancouver. If you are looking for a way to give back to your community in a way that has a direct impact on people who need help, I encourage you to see if there is a Soup Sisters (and Broth Brothers) in your neighbourhood. You can find out HERE. I can't quite describe the feeling you get from working with other people to put some good back out into the world, but I promise, it feels pretty amazing. So, help give a #huginabowl and #soupitforwardYVR!
My friends and I made 15+ Litres of Hamburger Soup that was delivered to clients at Kate Booth House and Atira.  These organizations provide shelter and resources for women and children fleeing domestic violence and support for women and youth coping with homelessness, addiction, and substance abuse issues in Vancouver.
Ingredients
2 Tbsp butter
1 large onion, medium dice
2 large carrots, medium dice
3 medium potatoes, medium dice
1/4 of a 1lb cabbage, cored and sliced
1 tsp salt
1 tsp pepper
1 Tbsp fresh thyme
2 bay leaves
2 C vegetable stock (1 stock cube dissolved in 2 C water)
2 C water
Left over pasta (optional, I just happened to have some left over fussilli and tomato sauce)
Method
Melt the butter in a soup pot and saute the onions for 3 minutes, add the carrots. potatoes, and cabbage and stir to coat with the butter.
Add the salt, pepper, fresh thyme and bay leaves.
Saute another 5 minutes and then add the stock and water.
Bring to a boil and lower heat to a gentle simmer.
Simmer for 1 hour and serve.
If you have left over pasta, put a heaping spoon full in each serving bowl and ladle the hot soup over top.
---
---