Vegetable Dill Soup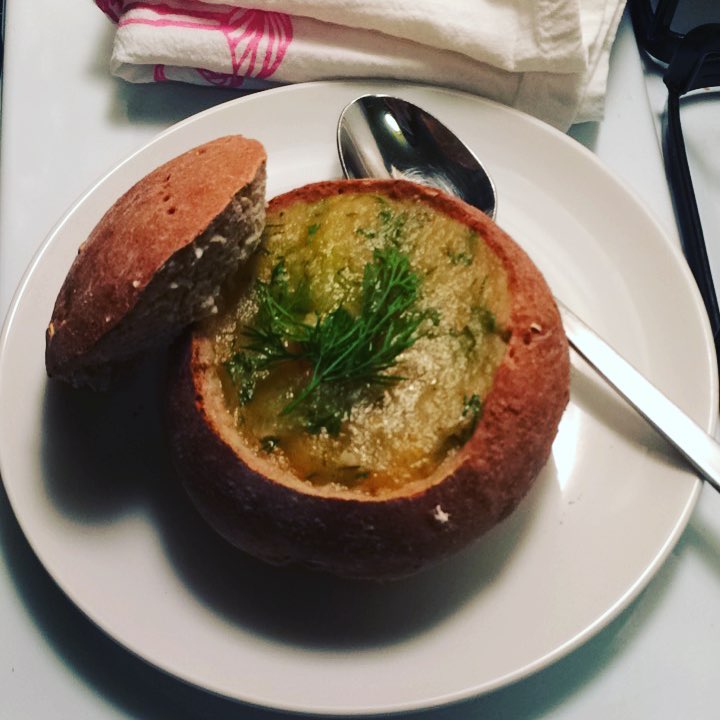 I had a tonne of dill left over from making gravlax and gravlax cream cheese slather so I thought I'd make some vegetable soup for Souper Sunday…with leftovers for Meatless Monday, ha ha!
Ingredients
1 medium yellow onion, diced
2 carrots, diced
2 ribs celery, diced
2 C yellow flesh potatoes, diced (Yukon Golds work well)
2 Tbsp minced garlic
1 Tbsp oil + 1 Tbsp butter for sauteing
4 C vegetable stock (or chicken stock if you prefer)
1 tsp pepper balls
1 bay leaf
Handful of dill fronds chopped
Salt and pepper to taste
Method
Heat the oil and butter in a medium-sized soup pot.
Saute the onion until translucent.
Add carrots and

sauté

three minutes.
Add celery and

sauté

three minutes.
Add garlic and

sauté

for one minute or until fragrant. Burned garlic tastes bitter…don't do that.
Add pepper balls, bay leaf and stock.
Add potatoes and bring to a boil, lower to a simmer and simmer until the potatoes are fork tender.
Using a slotted spoon take about about 2 C of the veg and puree it (I used my ancient Cuisinart but you could use a blender or even a potato masher if you want to go low tech), add a bit of the cooled broth to make a loose soup. Note: let the veg cool enough before pureeing so that you don't burn yourself (or melt your Cuisinart!).
Add the pureed veg back into the warm soup, stir in your chopped dill, season with salt and fresh ground black pepper and you are good to go.
I served mine in a Corn Syrup Oatmeal mini-bread bowl but a regular non-edible bowl will do!
Note: Serves 6-8
---
---