Paleo Sun-dried Tomato and Turkey Meatballs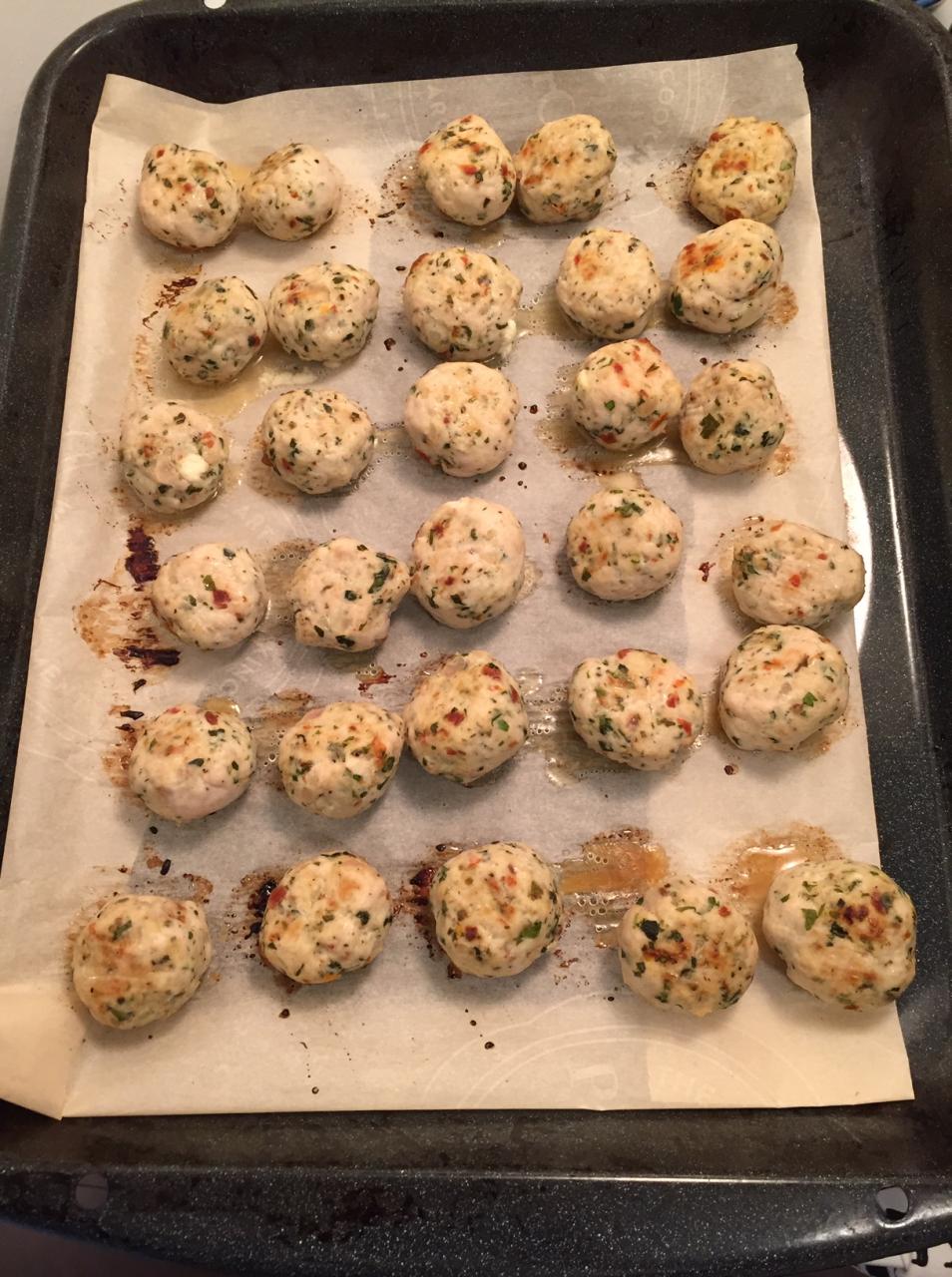 We have a good family friend who is on a paleo diet with additional restrictions including no gluten and cow's milk products. These sun-dried tomato and turkey meatballs from Half Baked Harvest with a little swapping here and there fit the bill. I used Chèvre in place of the ricotta, because I couldn't find sheep's milk ricotta, and Pecorino, made with sheep's milk, in place of the Parmesan. I also left out the red pepper flakes and adapted the baking time because these were going into the freezer. These are damned delicious if I do say so myself.
Ingredients
1 lb ground turkey
113 g package Chèvre, crumbled
1/4 cup grated Pecorino cheese
1/4 cup (about 4) oil packed sun-dried tomatoes, oil drained and minced
2 cloves garlic, minced
1 shallot, minced
1/4 cup fresh basil, chopped
1/4 cup fresh parsley, chopped
Salt and black pepper to taste
1 teaspoon dried oregano
Method
Preheat the oven to 400 degrees F. Line a baking sheet with baking parchment.
Mix the ground turkey, C

hèvre

, Pecorino, sun-dried tomatoes, 1 clove garlic, 1/4 cup basil, the parsley, and a pinch each of salt and pepper to a bowl.
Coat your hands with a bit of olive oil, and roll the meat into 1 tablespoon size balls (makes 20-24 meatballs).
Place the meatballs on the prepared baking sheet. Transfer to the oven and bake for 20 minutes flipping half-way through.
Allow to cool and freeze on a cookie sheet for 30  minutes before bagging, labeling and popping back in the freezer. They can be kept in the freezer for 3-4 months.
To reheat, remove from the freezer, sprinkle with a bit of water and microwave for 4 minutes until heated through. Or you can let them defrost in the fridge overnight and add them to your favourite sauce and let them heat through that way.
---
---