Dandelion Greens with Red Pepper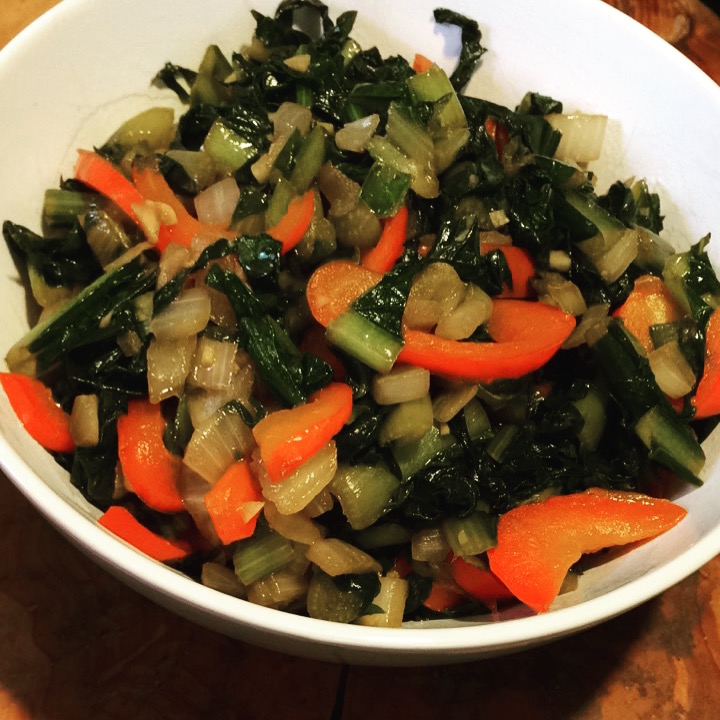 My Organivores bin had a myriad of greens this week including a big bunch of dandelion greens. Yup, weed leaves. And, I have to say, they are delicious.
First up, I had a look around on the web to see how exactly one prepares and cooks them. This video from Clean & Delicious with Dani Spies was very helpful (thanks Dani!).

Next, I had a look for other recipes just to see what was out there and settled on a variation of this recipe for Sauteed Dandelion Greens from Epicurious. It got 5 stars so that was good enough for me. I didn't bother blanching the greens first (it wasn't necessary), although I would taste your greens because if they are super bitter (mine weren't) you might want to blanch them a bit first.
When finished, the greens do have a slightly bitter back note (think radicchio) but the strong flavours from the Tamari and the lemon juice (and the garlic I suppose) balance it quite nicely. If you like sauteed chard, beet greens, and the like, I think you'll like dandelion greens as well.
Ingredients
1 big bunch of dandelion greens, washed and with the stems trimmed off right up to where the leaves start
1 medium onion, diced
3 – 4 cloves garlic, diced (next time I will add more)
1 red pepper sliced
2 Tbsp olive oil
2 Tbsp Tamari or soy sauce
2 Tbsp fresh lemon juice
fresh pepper (you won't need extra salt)
Method
Heat olive oil in a big saute pan.
Saute diced onion 3-4 minutes on med-low until they start to become translucent.
Add the diced garlic and peppers.
Chop the greens into 1″ ribbons and add to the pan.
Keep tossing the greens until the begin to wilt (it won't take long).
Drizzle in the Tamari and toss.
Drizzle in the lemon juice and toss.
If there is a lot of liquid in the pan keep sauteing until it start to evapourate.
Server as a side, on rice, or just eat.
Notes: Makes 4 side servings.
---
---