Stripetti Squash with Sundried Tomatoes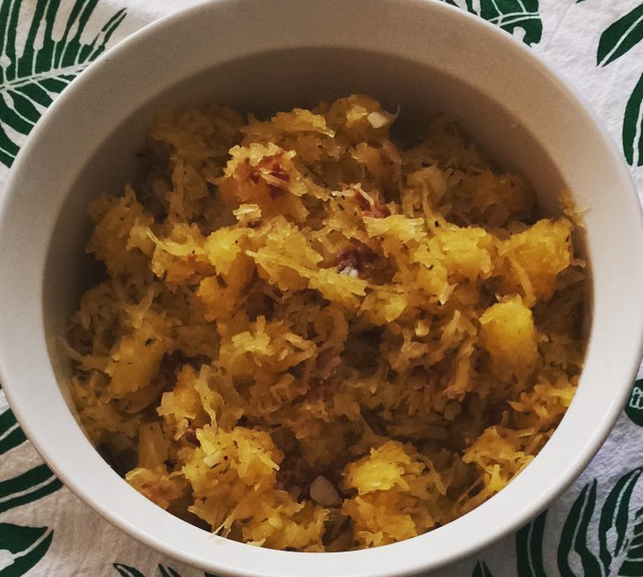 I finally got around to roasting up the stripetti squash that came with my first bin from Organivores. A stripetti squash is a cross between a spaghetti squash and a delicata squash (apparently). In my opinion, the taste and texture are pretty much the same as a spaghetti squash so I cooked it the same way.
Ingredients
1 stripetti squash
1 small onion, diced
2 cloves garlic, diced
2 Tbsp butter
2 Tbsp olive oil
1/2 tsp fine herbs (or thyme)
1 tsp rosemary rock salt
5 sundried tomatoes packed in oil, cut into strips and then diced
Fresh ground pepper to taste
Method
Preheat oven to 375F.
Poke a couple holes in the squash with a meat fork and put it on a baking sheet lined with parchment paper.
Roast for 60 minutes or until you can easily insert a knife.
Let cool until you can handle it easily.
Cut the stripetti squash in half and carefully scoop out the seeds.
Using a fork, scrape the flesh out into a large bowl. If the stripetti squash is cooked enough it should come away easily in short strands. If it doesn't, you need to pop it back in the oven for a bit or microwave it.
Toss with the butter and set aside.
Heat olive oil in a big frying pan.
Add the onions and garlic and saute until fragrant (this won't take long).
Add the squash and toss the works together.
Add the herbs and rock salt and toss.
Add the diced sundried tomatoes.
Give it a good grind of fresh pepper.
Correct the salt to taste.
Serves 6 as a side dish.
---
---