Turnips, Collard Greens and Cabbage Shoots with Applewood Smoked Bacon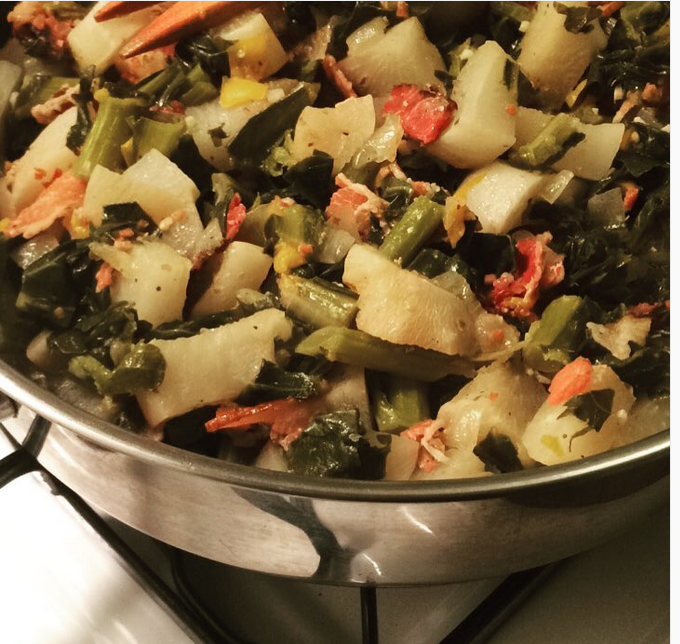 I hate turnips. Or at least I'm thought I did. Bad experience in my youth. Also true, I absolutely love collard greens. When collard greens are cooked right there is nothing better. So, when I got collard greens, cabbage shoots, and turnips in my Organivores bin this week it was a sign. Off I went for a surf to see what I could find. What I found was the lovely Rosie's recipe for
Southern Mixed Greens and Turnips
at IHeartRecipes. Thank you Rosie!
If you have mustard greens and kale as well as collards and turnips, try Rosie's recipe. If you don't, then try mine. I didn't want to be eating this for a week (collards or not) so I reduced some of the ingredients amounts. Even the bacon – I know, I know sacrilege, especially when it's Applewood smoked bacon.
Ingredients
6 rashers smoked bacon (I used Applewood smoked bacon, drool…sorry)

1

large vidalia onion

diced (or yellow onion will do)


1

large yellow bell pepper

diced

3

cloves

of fresh garlic

minced

1

tsp

seasoning salt (I used Old Bay)


1

tsp

ground black pepper

1/4

tsp

red pepper flakes

1

tbsp

apple cider vinegar

1

big bunch

collard greens

washed & cut

1

big bunch of cabbage sprouts


1 C

chicken broth




3 –

medium sized turnips

peeled & chopped into chunks

Instructions
Clean the greens well. I double soaked them. Trim the ends off the ends to get rid of any super tough stalks and Chop into bite sized pieces. You are going to cook the bejesus out of these suckers so some stalk is okay.

Chop the bacon into bite sized pieces and place in a deep sided saute pan.

Cook bacon over medium heat and when it starts to brown add the onions, yellow pepper, and minced garlic.

Stir the ingredients, then start adding the  greens. You may need to let them cook down a bit as you go to make room. Be patient, they will wilt.

Once all the greens are in the pot, pour in the chicken broth.

Add the red pepper flakes, seasoning salt, and black pepper. Give it a good stir.

Stir in the apple cider vinegar.

Reduce the heat from medium to low, put a lid on the pan, and let the greens simmer for 1 hour.

Add in the turnips, stir, cover and let the works cook for another 30 minutes.
Serves 4-6 people.
---
---