Zucchini Noodles with Capers and Tomatoes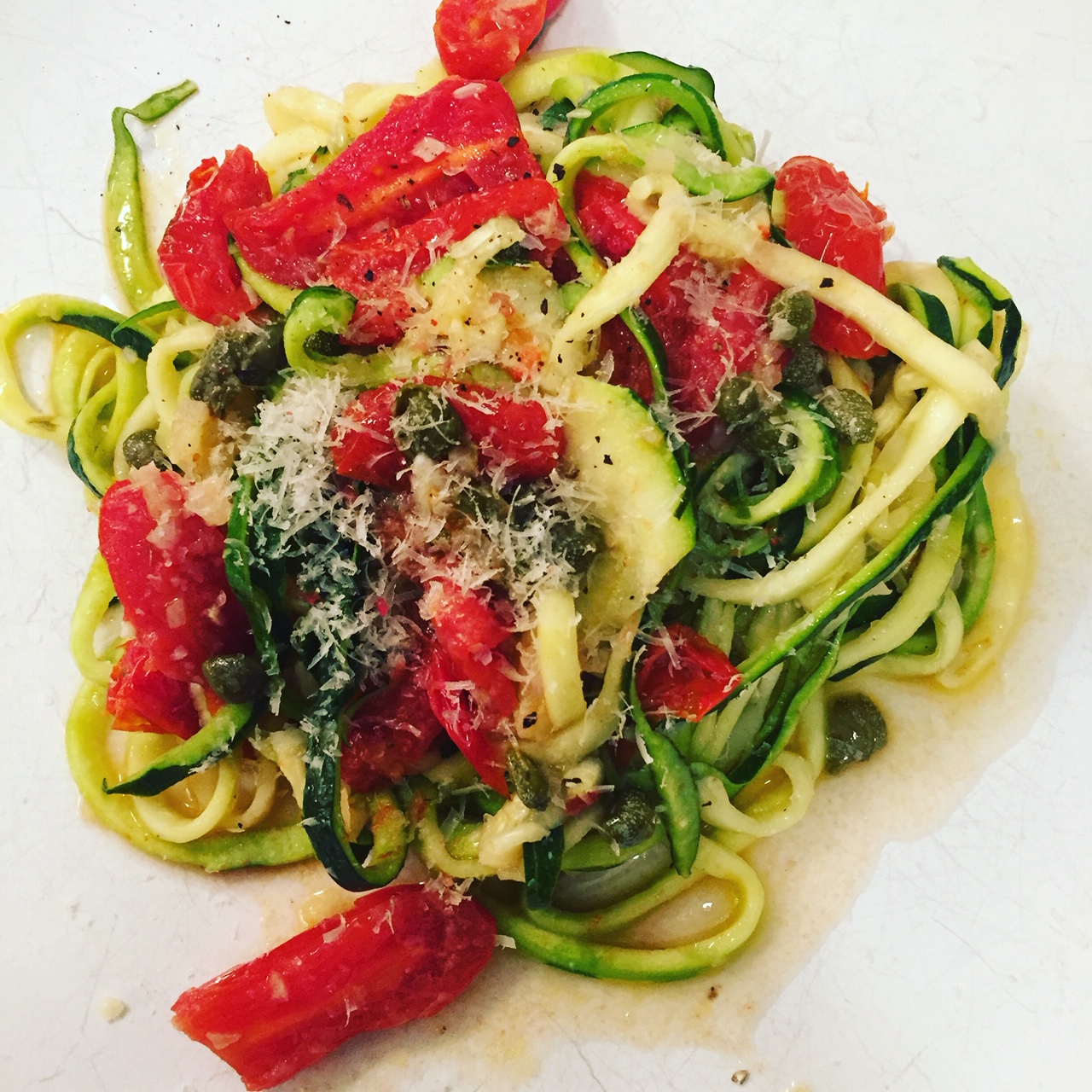 Zucchini noodles (or zoodles) are easy to pull off, if you own a spiralizer. This recipe is based on the Spiralized Zucchini Noodles with Lemon and Caper Butter from Umami Girl (Hey Grrrrl, thanks). It was easy and tasted fabulous. I can see it being a great side for just about any meat but it was fine as a main on its own. The trick is to dry the zucchini noodles well before you saute them and rather than keep stirring them, I finished them under the broiler which did a nice job on the tomatoes as well. I will definitely be making this again.
Ingredients
1 medium zucchini, spiralized
1 small shallot, minced
1 clove garlic, minced
2 Tbsp fruity olive oil
2 Tbsp butter
2 Tbsp capers
2 Tbps lemon juice
12 marzano cherry tomatoes, halved
salt and pepper to taste
grated pecorino or parmesan
Method
Spiralize the zucchini onto a layer of paper towels. Lightly salt the zoodles to draw out more water and place another layer of paper towels on top. Press down lightly and set aside while you prep the rest of the ingredients.
Preheat your broiler on high.
Heat the oil and butter in a large oven proof saute pan over medium heat.
Once the butter had melted add the shallots, garlic, and capers, cook for 5 minutes or so, stirring occasionally.
Add the halved tomatoes and cook for another minute.
Pat down the zoodles well to remove excess liquid and add them to the pan, stir gentle and let them saute for 1-2 minutes.
Put the pan into the preheated oven and broil the works for about 4 minutes, keeping an eye on the pan so it doesn't burn.
Remove from the oven, stir in the lemon juice and plate.
Grind pepper over the top and sprinkle with cheese of your choice (it doesn't need a lot).
Serve
Makes 2 servings, ok I ate the whole thing myself so maybe only one :).
---
---