Chicken Bone Broth Vegetable Soup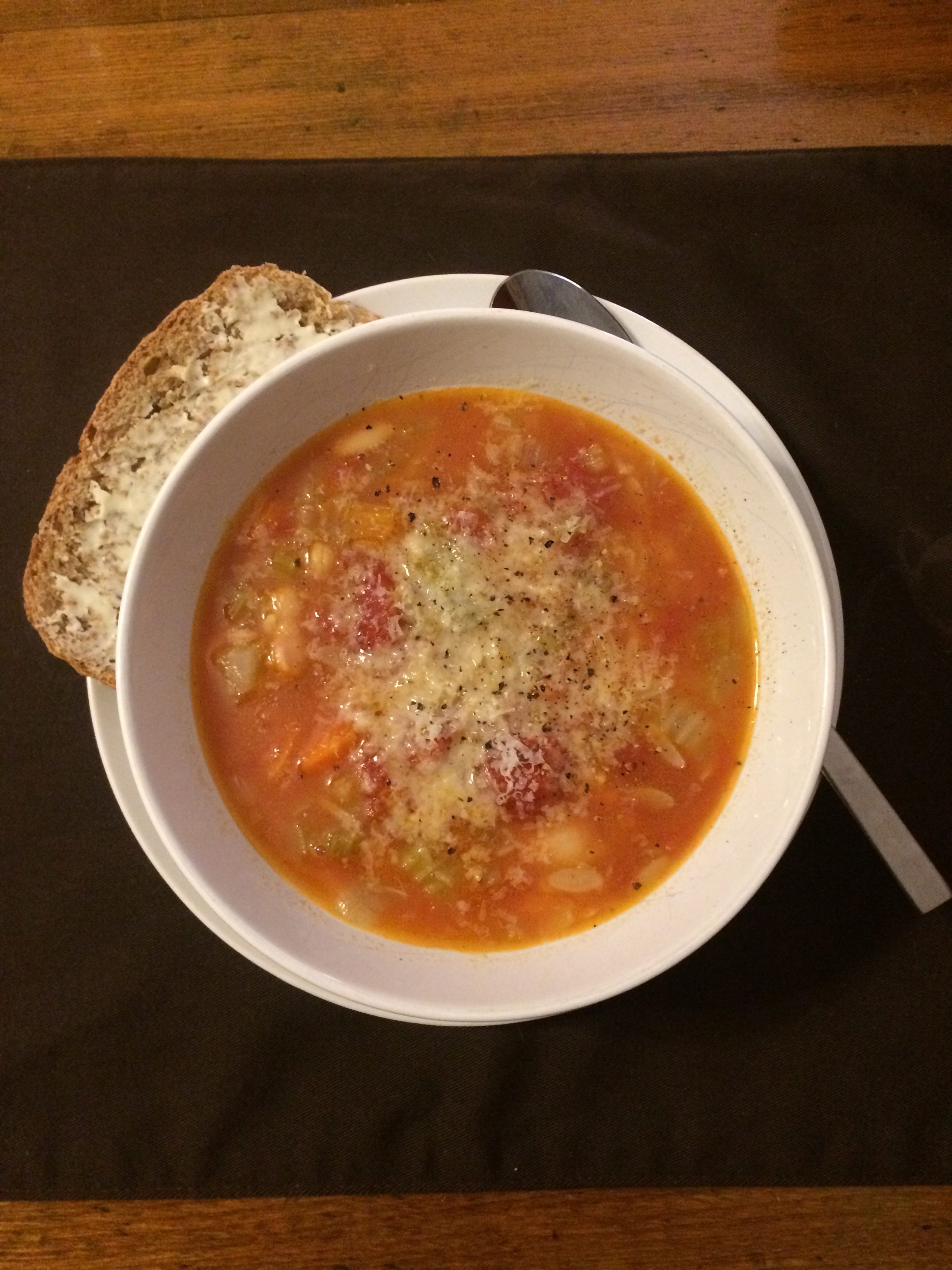 It got cold today, and it snowed, in Kitsilano, something is very wrong. Luckily, I had started making chicken bone broth yesterday, so I was prepared. I also had some veggies in the fridge that were looking a little sad, so I decided to make a chicken vegetable soup.
Note to my kids: soup is good food, and it's dead easy. All you need are the fixings for mirepoix (which is just chopped onion, celery, and carrot), a little oil for sauteing, soup stock (meat-based or vegetarian), and a big soup pot. Potatoes, canned tomatoes, and beans (all of which are cheap, cheap, cheap) are great additions. Grate a little cheese on top, serve with some nice crusty bread and boom… healthy dinner. You're welcome. Mommy loves you.
Ingredients
2 Tbsp olive oil
1 medium yellow onion, diced
3 spring onions, chopped (white and green)
2 stalks celery, diced
2 carrots, diced (don't bother peeling them if the skins aren't tough)
1/4 C white wine (or cooking sherry)
One 28 oz can diced tomatoes
2 large clove garlic, minced
3 1/2 C of chicken bone broth (or chicken stock)
1 14 oz can cannellini  beans (or whatever beans you have on hand would be fine)
Juice of 1 lemon
1 C orzo
Method
In a big soup pot, heat oil and saute onions until translucent.
Add celery and saute 2-3 minutes.
Add carrots and saute 2-3 minutes.
Add wine and cook off the alcohol (couple minutes)
Add tomatoes and bring to simmer.
Add garlic and stir.
Add bone broth, cannellini beans, and the lemon juice.
Bring to a low boil and add orzo. Cook 6 minutes or until orzo is al dente.
Salt and pepper to your taste.
Grate some fresh parmesan over the top and serve with fresh bread.
It's good to have friends and Christmas is coming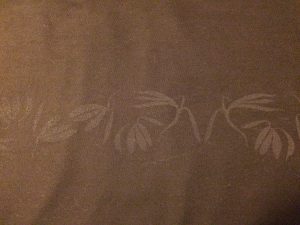 I want to take a moment to thank my friend Paula Lukey for the table runner in the soup photo. I use it a lot and the "food" photo doesn't do it justice because you can only just see the subtle bird of paradise silk screen peeking out on the right. The photo above does a better job (ok it's wrinkled…but so am I). This print is an early prototype for some of the amazing screen printing work Paula is doing now (so, yah, I'm ahead of my time). Go look at her stuff at Paulalukey.com. Christmas is coming, and for the foodies on your list, she's got a variety of linen designs that are really very lovely (like the one below). You can also find her wares on Instagram @paulalukey along with the intrepid QBert (you'll just have to go look to see what that's all about on your own – my soup is getting cold).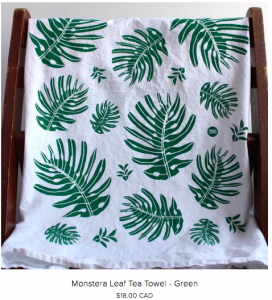 ---
---