Pumpkin, Carrot and Red Lentil Soup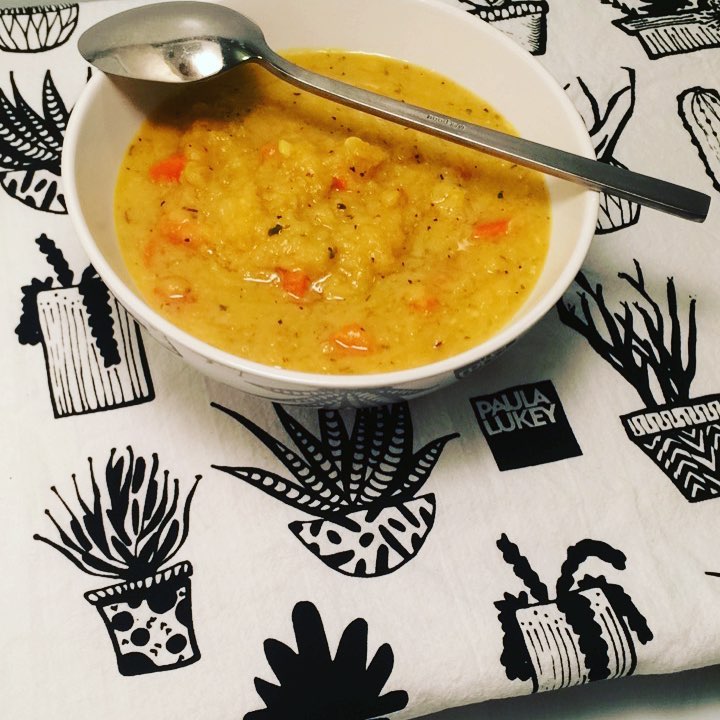 Percy the Pumpkin is the gift that just keeps on giving. So far he has been resurrected as delicious dog treats approved by both large and small breed representatives, melt in your mouth pumpkin mini scones, and now he's about to make his debut on Souper Sunday as the base for a yummy pumpkin soup.
I've take cues from the lovely and talented Donna of Whole Food Bellies, a recipe for Pumpkin Buttermilk Soup from King Valley Dairy (thanks guys), and then I ad libbed according to what I had on hand that needed to be used.
Here's the result:
Ingredients
1 medium yellow onion, diced (or 2 shallots – which is what I had on hand)
2 Tbsp oil
1 tsp turmeric
3 cloves garlic, minced
1 Tbsp peeled and minced ginger
1 bay leaf
3 large carrots, diced (don't bother peeling them unless they are really grotty)
1 tsp dried thyme (or three springs fresh, strip the leaves off)
2 ½ C chicken bone broth (or the stock of your choice)
1 cup dried red lentils
2 C pumpkin puree (or 1 large can of plain pumpkin puree)
Juice of ½ lemon
1 C buttermilk
Greek style natural yogurt, sour cream or crème fraiche to serve
sea salt and pepper to taste
Instructions
In a heavy bottomed, medium sized soup pot, saute onion in oil, add carrots, add ginger, garlic, thyme and bay leaf. Keep sautéing until the ginger and garlic become fragrant.
Add the stock.
Add the lentils.
Cover with a lid and bring to a simmer. Once simmering, remove the lid and cook uncovered for about 30 mins, or until lentils are tender.
Add the pureed pumpkin and heat to simmering.
Turn off the heat and stir in the buttermilk.
Serve with a dollop of yogurt, sour cream or crème fraiche.
Notes: Makes 4-6 servings
---
---